Everyone loves chicken tenders, chicken bites, or popcorn chicken. They are small, cute and taste great.
This recipe demonstrates a technique of lower calorie cooking for our families. Baking and not deep frying. When we remove the cooking fat, in we save hundreds of calories and do our body good.
Try this technique with your favorite sauces. Then, after you get the baking down as a skill, then change the coating. We suggest things like our Cheddar Bites, or replace the crackers with panko.
Panko are Japanese bread crumbs and make for a crispier crunchy chicken bite.
Another fun variation is to replace the chicken with another protein. How about shrimp or scallops or mini crab cakes?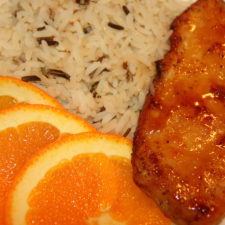 Kids love dipping chicken pieces in sauce. Adults love grilled meats, pork, fish and poultry. Having the combination together makes for exciting dishes.
All over the world, glazed poultry can be found. There is the maple glaze, whiskey glaze, honey mustard, honey soy, lime soy, orange glazed, etc… The list can be as long as a few pages of print.
This recipe takes the glaze further by using toasted spices, baking technique, and adding a curry mayonnaise drizzle.
Apricots are a completely under-utilized fruit. While the demand for fresh apricots is growing, this dish celebrates the integration of this ingredient with poultry, spices and orange.