Chefsville presents upcoming events
Sign up for our e-mail newsletter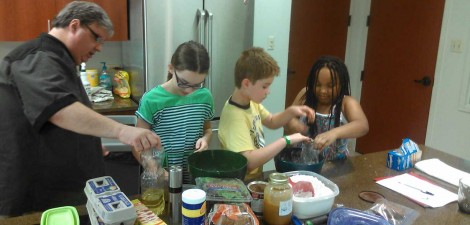 Pre-Registration is required by calling the Recreation Center hosting our events – see below!
for camps, classes and cooking clubs.
Come and join in on all of the cooking fun. Chefsville connects cooking with family, community, culture and the academics of math, science, language arts and social studies. These programs are fun. Taught through the lens of culinary talent. More than just chef demonstrations. Programs are mostly hands-on as participants dive in with their 5 senses.  Dishes are prepared and eaten. Some programs have interviews, videos, and highlights of the best cooking trends.
2017 Summer Camps (by city):
Click on…
Allen TX
Carrollton TX
Coppell TX
Richardson, TX
Rockwall TX
Rowlett TX
The Colony TX
Wylie TX
Chefsville continually grows its collaboration and community partners to offer great events around the DFW Metroplex.  Please check back often as our calendar constantly changes and is updated. Birthday parties and after-school cooking clubs are not listed.
Holiday Cooking Camp – Richardson
Class Description:
Get out those aprons! America loves kid chefs. Holidays are a wonderful time to learn new tricks and cooking techniques to make the holiday special. Get the little kitchen elves involved in this camp and they will more than surprise you the fun, exciting foods that say :The holidays are here'
Course #: 93465         Costs: $120 residents / $122 non-residents plus $25 supply fee to instructor at the start of the first day of camp.
Monday thru Friday:           9am – noon        12/26 thru 12/30
Ages 7+
Richardson Parks Registration Site
Save
Save
Save