Chefsville presents upcoming events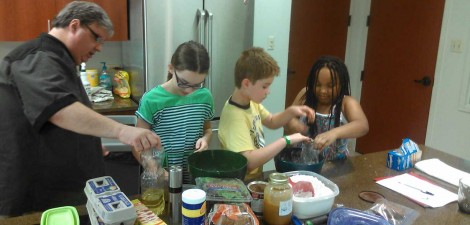 Pre-Registration is required by calling the Recreation Center hosting our events – see below!
Camps, classes and cooking clubs.
Come and join in on all of the cooking fun. Chefsville connects cooking with family, community, culture and the academics of math, science, language arts and social studies. These programs are fun. Taught through the lens of culinary talent. More than just chef demonstrations. Programs are mostly hands-on as participants dive in with their 5 senses.  Dishes are prepared and eaten. Some programs have interviews, videos, and highlights of the best cooking trends.
Chefsville continually grows its collaboration and community partners to offer great events around the DFW Metroplex.  Please check back often as our calendar constantly changes and is updated. Birthday parties and after-school cooking clubs are not listed.
January 2018
Sun

Sunday

Mon

Monday

Tue

Tuesday

Wed

Wednesday

Thu

Thursday

Fri

Friday

Sat

Saturday

December 31, 2017

January 1, 2018

January 2, 2018

January 3, 2018

January 4, 2018

Cottonwood Creek Elem Cooking Club

Coppell ISD may call this a cooking class but its really a "Cooking Club" where kids learn about kitchen and food safety, and food preparation. Cooking is so much fun, and its even better when we eat it!

Grades: 1 – 6

Cottonwood Creek Elementary Cooking Club Register Page

Elementary schools meet Immediately after school until 4:15pm.

Fees are for ingredients, drinks, program materials, printed activities, teaching aids, recipes, and service-ware.

Location:
Cottonwood Creek Elementary School

January 5, 2018

January 6, 2018

Splendid Soups – Wylie

Splendid Soups

Description: Teens and Tweens, ages 10+, join us for a fun early afternoon celebrating the world of winter food through soups. We'll make the most delicious soups and add new cooking skills!

You are the future of the culinary arts. Understand essential cooking terminology, discover healthy nutrition options, and learn how to plan and cook delicious meals for yourself. Learn about kitchen and food safety, food preparation, food history, and international foods. At the end of each class, enjoy eating the delicious treats you prepared.


This is a culinary adventure!

Course # 8262               Jan. 6, 2018     10:30am – 12:45pm

Activity Fee – $17.00 + $12 supply fee for instructor due at the beginning of the program.

Ages: 10+

Wylie Rec Center Registration Page

Soups are On! – Richardson

Soups are On!

Description: Participants will learn how to make great soups that define their family and tastes. Kids will learn about flavor combinations, variations and the history of different famous soups. Kids will participate by making stock and turning it into great tasting soups. Vegetarians welcomed as some of these soups are vegetarian. Served with bread and crackers. This is a 2 hour session that includes a meal.

This is a culinary adventure!

Activity Fee – $17 Resident / $19 Non-Resident. Supply Fee of $12 paid to Instructor due at the beginning of the program.

Ages: 7+

Course # 6304              January 6, 2018              2pm – 4pm

Huffhines Rec Center Registration Page

January 7, 2018

January 8, 2018

Akin Elem. Cooking Club – Wylie

Wylie calls this a cooking class but its really a "Cooking Club" where kids learn about kitchen and food safety, and food preparation. Cooking is so much fun, and its even better when we eat it!


Grades: K – 4 and 5 – 6

Akin Elementary Cooking Club Register Page

Immediately after school until 4pm for elementary schools and 5pm for intermediate schools.

Fees are for ingredients, drinks, program materials, printed activities, teaching aids, recipes, and service-ware.

Location:
Akin Elementary School

Birmingham Elem Cooking Club

Wylie calls this a cooking class but its really a "Cooking Club" where kids learn about kitchen and food safety, and food preparation. Cooking is so much fun, and its even better when we eat it!


Grades: K – 4 and 5 – 6

Birmingham Elementary Cooking Club Register Page

Immediately after school until 4pm for elementary schools and 5pm for intermediate schools.

Fees are for ingredients, drinks, program materials, printed activities, teaching aids, recipes, and service-ware.

Location:
Birmingham Elementary School

Smith Elem Cooking Club

Wylie calls this a cooking class but its really a "Cooking Club" where kids learn about kitchen and food safety, and food preparation. Cooking is so much fun, and its even better when we eat it!


Grades: K – 4 and 5 – 6

Smith Elementary Cooking Club Register Page

Immediately after school until 4pm for elementary schools and 5pm for intermediate schools.

Fees are for ingredients, drinks, program materials, printed activities, teaching aids, recipes, and service-ware.

Location:
Smith Elementary School

January 9, 2018

Watkins Elem Cooking Club – Wylie

Wylie calls this a cooking class but its really a "Cooking Club" where kids learn about kitchen and food safety, and food preparation. Cooking is so much fun, and its even better when we eat it!


Grades: K – 4 and 5 – 6

Watkins Elementary Cooking Club Register Page

Immediately after school until 4pm for elementary schools and 5pm for intermediate schools.

Fees are for ingredients, drinks, program materials, printed activities, teaching aids, recipes, and service-ware.

Location:
Watkins Elementary School

Draper Intermediate Cooking Club

Wylie calls this a cooking class but its really a "Cooking Club" where kids learn about kitchen and food safety, and food preparation. Cooking is so much fun, and its even better when we eat it!


Grades: K – 4 and 5 – 6

Draper Intermediate Cooking Club Register Page

Immediately after school until 4pm for elementary schools and 5pm for intermediate schools.

Fees are for ingredients, drinks, program materials, printed activities, teaching aids, recipes, and service-ware.

Location:
Draper Intermediate School

Harrison Intermediate Cooking Club

Wylie calls this a cooking class but its really a "Cooking Club" where kids learn about kitchen and food safety, and food preparation. Cooking is so much fun, and its even better when we eat it!


Grades: K – 4 and 5 – 6

Harrison Intermediate Cooking Club Register Page

Immediately after school until 4pm for elementary schools and 5pm for intermediate schools.

Fees are for ingredients, drinks, program materials, printed activities, teaching aids, recipes, and service-ware.

Location:
Harrison Intermediate School

January 10, 2018

January 11, 2018

Cottonwood Creek Elem Cooking Club

Coppell ISD may call this a cooking class but its really a "Cooking Club" where kids learn about kitchen and food safety, and food preparation. Cooking is so much fun, and its even better when we eat it!

Grades: 1 – 6

Cottonwood Creek Elementary Cooking Club Register Page

Elementary schools meet Immediately after school until 4:15pm.

Fees are for ingredients, drinks, program materials, printed activities, teaching aids, recipes, and service-ware.

Location:
Cottonwood Creek Elementary School

January 12, 2018

January 13, 2018

Soups are On! – Carrollton

Soups are On!

Description: Participants will learn how to make great hot and cold soups that define their family and tastes. The entire family is invited. Kids will participate by helping make the stock and turning stock/broth into great tasting soups. Vegetarians welcomed as some of these soups are vegetarian. This 2-hour session includes a meal served with fresh bread sticks.

At the end of each class, enjoy eating the delicious treats you prepared.

Course # 170104               January 13, 2018     10:30am – 12:45pm

Activity Fee – $17.00 Residents / $19 Non-Residents. There is a $12 supply fee for instructor due at the beginning of the program.

Ages: 7+

Rosemeade Rec Center Registration Page

January 14, 2018

January 15, 2018

January 16, 2018

Watkins Elem Cooking Club – Wylie

Wylie calls this a cooking class but its really a "Cooking Club" where kids learn about kitchen and food safety, and food preparation. Cooking is so much fun, and its even better when we eat it!


Grades: K – 4 and 5 – 6

Watkins Elementary Cooking Club Register Page

Immediately after school until 4pm for elementary schools and 5pm for intermediate schools.

Fees are for ingredients, drinks, program materials, printed activities, teaching aids, recipes, and service-ware.

Location:
Watkins Elementary School

Draper Intermediate Cooking Club

Wylie calls this a cooking class but its really a "Cooking Club" where kids learn about kitchen and food safety, and food preparation. Cooking is so much fun, and its even better when we eat it!


Grades: K – 4 and 5 – 6

Draper Intermediate Cooking Club Register Page

Immediately after school until 4pm for elementary schools and 5pm for intermediate schools.

Fees are for ingredients, drinks, program materials, printed activities, teaching aids, recipes, and service-ware.

Location:
Draper Intermediate School

Harrison Intermediate Cooking Club

Wylie calls this a cooking class but its really a "Cooking Club" where kids learn about kitchen and food safety, and food preparation. Cooking is so much fun, and its even better when we eat it!


Grades: K – 4 and 5 – 6

Harrison Intermediate Cooking Club Register Page

Immediately after school until 4pm for elementary schools and 5pm for intermediate schools.

Fees are for ingredients, drinks, program materials, printed activities, teaching aids, recipes, and service-ware.

Location:
Harrison Intermediate School

January 17, 2018

January 18, 2018

Cottonwood Creek Elem Cooking Club

Coppell ISD may call this a cooking class but its really a "Cooking Club" where kids learn about kitchen and food safety, and food preparation. Cooking is so much fun, and its even better when we eat it!

Grades: 1 – 6

Cottonwood Creek Elementary Cooking Club Register Page

Elementary schools meet Immediately after school until 4:15pm.

Fees are for ingredients, drinks, program materials, printed activities, teaching aids, recipes, and service-ware.

Location:
Cottonwood Creek Elementary School

January 19, 2018

January 20, 2018

Salsa, Salsas and more Salsa – Richardson

Salsa, Salsas and more Salsa!

Description: The Mexican kitchen is loaded with the tastiest salsas. Kids will come in and chop, dice and slice the most beautiful salsas for a variety of dishes.. This is a 2 hour session that includes a meal.

This is a culinary adventure!

Activity Fee – $19. A Supply Fee of $12 paid to Instructor due at the beginning of the program.

Ages: 7+

Course # 6305              January 20, 2018              2pm – 4pm

Huffhines Rec Center Registration Page

January 21, 2018

January 22, 2018

Akin Elem. Cooking Club – Wylie

Wylie calls this a cooking class but its really a "Cooking Club" where kids learn about kitchen and food safety, and food preparation. Cooking is so much fun, and its even better when we eat it!


Grades: K – 4 and 5 – 6

Akin Elementary Cooking Club Register Page

Immediately after school until 4pm for elementary schools and 5pm for intermediate schools.

Fees are for ingredients, drinks, program materials, printed activities, teaching aids, recipes, and service-ware.

Location:
Akin Elementary School

Birmingham Elem Cooking Club

Wylie calls this a cooking class but its really a "Cooking Club" where kids learn about kitchen and food safety, and food preparation. Cooking is so much fun, and its even better when we eat it!


Grades: K – 4 and 5 – 6

Birmingham Elementary Cooking Club Register Page

Immediately after school until 4pm for elementary schools and 5pm for intermediate schools.

Fees are for ingredients, drinks, program materials, printed activities, teaching aids, recipes, and service-ware.

Location:
Birmingham Elementary School

Smith Elem Cooking Club

Wylie calls this a cooking class but its really a "Cooking Club" where kids learn about kitchen and food safety, and food preparation. Cooking is so much fun, and its even better when we eat it!


Grades: K – 4 and 5 – 6

Smith Elementary Cooking Club Register Page

Immediately after school until 4pm for elementary schools and 5pm for intermediate schools.

Fees are for ingredients, drinks, program materials, printed activities, teaching aids, recipes, and service-ware.

Location:
Smith Elementary School

January 23, 2018

Watkins Elem Cooking Club – Wylie

Wylie calls this a cooking class but its really a "Cooking Club" where kids learn about kitchen and food safety, and food preparation. Cooking is so much fun, and its even better when we eat it!


Grades: K – 4 and 5 – 6

Watkins Elementary Cooking Club Register Page

Immediately after school until 4pm for elementary schools and 5pm for intermediate schools.

Fees are for ingredients, drinks, program materials, printed activities, teaching aids, recipes, and service-ware.

Location:
Watkins Elementary School

Draper Intermediate Cooking Club

Wylie calls this a cooking class but its really a "Cooking Club" where kids learn about kitchen and food safety, and food preparation. Cooking is so much fun, and its even better when we eat it!


Grades: K – 4 and 5 – 6

Draper Intermediate Cooking Club Register Page

Immediately after school until 4pm for elementary schools and 5pm for intermediate schools.

Fees are for ingredients, drinks, program materials, printed activities, teaching aids, recipes, and service-ware.

Location:
Draper Intermediate School

Harrison Intermediate Cooking Club

Wylie calls this a cooking class but its really a "Cooking Club" where kids learn about kitchen and food safety, and food preparation. Cooking is so much fun, and its even better when we eat it!


Grades: K – 4 and 5 – 6

Harrison Intermediate Cooking Club Register Page

Immediately after school until 4pm for elementary schools and 5pm for intermediate schools.

Fees are for ingredients, drinks, program materials, printed activities, teaching aids, recipes, and service-ware.

Location:
Harrison Intermediate School

January 24, 2018

January 25, 2018

Cottonwood Creek Elem Cooking Club

Coppell ISD may call this a cooking class but its really a "Cooking Club" where kids learn about kitchen and food safety, and food preparation. Cooking is so much fun, and its even better when we eat it!

Grades: 1 – 6

Cottonwood Creek Elementary Cooking Club Register Page

Elementary schools meet Immediately after school until 4:15pm.

Fees are for ingredients, drinks, program materials, printed activities, teaching aids, recipes, and service-ware.

Location:
Cottonwood Creek Elementary School

January 26, 2018

January 27, 2018

The Chopping Block – Carrollton

The Chopping Block!

Description: Teens and tweens will compete. Each group will have 30 minutes to create an imaginative dish that will wow everyone. Participants will also learn what they don't show on TV: preparation, safety, and
kitchen manners.

At the end of each class, enjoy eating the delicious treats you prepared.

Course # 170104               January 27, 2018     10:30am – 12:45pm

Activity Fee – $17.00 Residents / $19 Non-Residents. There is a $12 supply fee for instructor due at the beginning of the program.

Ages: 7+

Rosemeade Rec Center Registration Page

January 28, 2018

January 29, 2018

Akin Elem. Cooking Club – Wylie

Wylie calls this a cooking class but its really a "Cooking Club" where kids learn about kitchen and food safety, and food preparation. Cooking is so much fun, and its even better when we eat it!


Grades: K – 4 and 5 – 6

Akin Elementary Cooking Club Register Page

Immediately after school until 4pm for elementary schools and 5pm for intermediate schools.

Fees are for ingredients, drinks, program materials, printed activities, teaching aids, recipes, and service-ware.

Location:
Akin Elementary School

Birmingham Elem Cooking Club

Wylie calls this a cooking class but its really a "Cooking Club" where kids learn about kitchen and food safety, and food preparation. Cooking is so much fun, and its even better when we eat it!


Grades: K – 4 and 5 – 6

Birmingham Elementary Cooking Club Register Page

Immediately after school until 4pm for elementary schools and 5pm for intermediate schools.

Fees are for ingredients, drinks, program materials, printed activities, teaching aids, recipes, and service-ware.

Location:
Birmingham Elementary School

Smith Elem Cooking Club

Wylie calls this a cooking class but its really a "Cooking Club" where kids learn about kitchen and food safety, and food preparation. Cooking is so much fun, and its even better when we eat it!


Grades: K – 4 and 5 – 6

Smith Elementary Cooking Club Register Page

Immediately after school until 4pm for elementary schools and 5pm for intermediate schools.

Fees are for ingredients, drinks, program materials, printed activities, teaching aids, recipes, and service-ware.

Location:
Smith Elementary School

January 30, 2018

Watkins Elem Cooking Club – Wylie

Wylie calls this a cooking class but its really a "Cooking Club" where kids learn about kitchen and food safety, and food preparation. Cooking is so much fun, and its even better when we eat it!


Grades: K – 4 and 5 – 6

Watkins Elementary Cooking Club Register Page

Immediately after school until 4pm for elementary schools and 5pm for intermediate schools.

Fees are for ingredients, drinks, program materials, printed activities, teaching aids, recipes, and service-ware.

Location:
Watkins Elementary School

Draper Intermediate Cooking Club

Wylie calls this a cooking class but its really a "Cooking Club" where kids learn about kitchen and food safety, and food preparation. Cooking is so much fun, and its even better when we eat it!


Grades: K – 4 and 5 – 6

Draper Intermediate Cooking Club Register Page

Immediately after school until 4pm for elementary schools and 5pm for intermediate schools.

Fees are for ingredients, drinks, program materials, printed activities, teaching aids, recipes, and service-ware.

Location:
Draper Intermediate School

Harrison Intermediate Cooking Club

Wylie calls this a cooking class but its really a "Cooking Club" where kids learn about kitchen and food safety, and food preparation. Cooking is so much fun, and its even better when we eat it!


Grades: K – 4 and 5 – 6

Harrison Intermediate Cooking Club Register Page

Immediately after school until 4pm for elementary schools and 5pm for intermediate schools.

Fees are for ingredients, drinks, program materials, printed activities, teaching aids, recipes, and service-ware.

Location:
Harrison Intermediate School

January 31, 2018

February 1, 2018

Cottonwood Creek Elem Cooking Club

Coppell ISD may call this a cooking class but its really a "Cooking Club" where kids learn about kitchen and food safety, and food preparation. Cooking is so much fun, and its even better when we eat it!

Grades: 1 – 6

Cottonwood Creek Elementary Cooking Club Register Page

Elementary schools meet Immediately after school until 4:15pm.

Fees are for ingredients, drinks, program materials, printed activities, teaching aids, recipes, and service-ware.

Location:
Cottonwood Creek Elementary School

February 2, 2018

February 3, 2018

Cupcake Decorating – Carrollton

Cup Cake Decorating


Description: Everyone loves to decorate cupcakes. Several different cupcakes will be used for class to decorate. Use of fillings, icings, and chocolates will be covered. Plus, you will get to take these treats home!

At the end of each class, enjoy eating the delicious treats you prepared.


Course # 170104               Feb. 3, 2018     10:30am – 12:45pm

Activity Fee – $17.00 Residents / $19 Non-Residents. There is a $12 supply fee for instructor due at the beginning of the program.

Ages: 7+

Rosemeade Rec Center Registration Page