Crispy on the outside, and perfectly soft on the inside, these waffles would be perfect made for your family one morning! They can be topped with any of your favorite toppings, or even made into an ice cream sandwich.
Waffles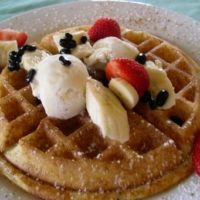 1 3/4 cups all-purpose flour
1 3/4 teaspoons baking powder
1/8 teaspoon fine salt
1/8 teaspoon ground nutmeg
1/4 cup sugar
3 large eggs (room temperature, separated)
1/2 teaspoon vanilla extract
1/4 cup unsalted butter (melted, plus more for brushing waffle iron)
Preheat a waffle iron to medium-high.
In a large bowl, whisk together the flour, baking powder, salt, and nutmeg.
In a medium bowl, whisk together the milk, egg yolks, vanilla, and 1/4 cup melted butter. Whisk the milk mixture into the flour mixture until a batter is formed. Take care not to over mix the batter.
In medium bowl, with a hand-held electric mixer or whisk, whip the egg whites until they just begin to hold a loose peak. Scatter the sugar over the whites and continue beating until they hold a soft
Brush the inside surface of the iron with butter. Pour in enough batter to lightly cover the surface of the iron, about 1/3 to 3/4 cup, depending upon the size of the iron. (Take into consideration that the batter will spread once the lid is closed.) Cover and cook until golden brown and slightly crisp, about 5 minutes. Repeat with the remaining batter. (If the waffle iron is well seasoned or nonstick it is not necessary to brush the inner surface each time before cooking the waffles.)
Serve the waffles immediately with syrup, jam, fresh fruit, or yogurt.
Tools Necessary-
Mixing Bowls
1 Large and 2 Medium sized
Waffle Iron
Spatulas or wooden spoons
Whisk