Autumn Chicken Stew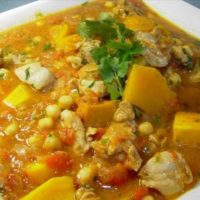 3 cups Butternut Squash or pumpkin
6 tablespoons Chilli-flavored Olive Oil
1/2 Onion (large, chopped)
3 teaspoons ginger (freshly grated or 1 1/2 teaspoon ground ginger)
1/2 teaspoons cinnamon (ground)
6 boneless skinless chicken breasts (chopped into bite-sized pieces)
2 cans chopped tomatoes (2 ½ cups)
3 -6 teaspoons brown sugar
1 can chickpeas (drained and rinsed, 2 ½ cups)
4 1/2 tablespoons coriander (freshly chopped)
1 1/2 teaspoons cornstarch (mixed well with (optional))
6 tablespoons water (optional)
Peel the pumpkin or squash. Cut the squash in ½ lengthwise (from top to bottom), remove any seeds then cut into bite-sized pieces.
In a large pan, heat the oil and fry the onion for 3-4 minutes.
Stir in the cinnamon and, if using the ground ginger, stir that in too, if you are using fresh ginger, it will be added later.
Cook for a couple more minutes and then remove onions to a plate, then brown the chicken. Add more oil if needed to help brown the chicken. Chicken needs to be browned on all sides.
Add the tomatoes and sugar.
Season to taste with salt and pepper if you like, although the dish may not need any, and then add the chickpeas and squash.
Evenly mix, then cover and simmer for about 30 minutes or until the pumpkin is tender.
If using fresh ginger, add it in about half way through this process.
Thicken stew to the desired consistency mixing and adding a bit of cornstarch and water. Cook stew for a couple minutes to thicken.
Stir in the chopped coriander just before serving.
Tools Necessary-
Soup Pot
Sauté Pan
Wooden Spoon or
Spatula
Cutting Board
Chef's Knife
Serving dish