This snack/ dessert is perfect on any day, and can be dipped in any of your favorite toppings!
Frozen Chocolate Banana on a Stick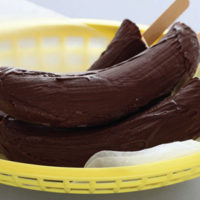 4 in ripe bananas (cuthalf lengthwise and impaled lengthwise on wooden skewers)
1 cup chocolate ganache or chocolate sauce
1/2 cup salted peanuts (roughly chopped)
1/2 cup shredded coconut
Put the skewered banana halves in the freezer for 15 minutes. (alternatively, put the bananas in a airtight container or wrap tightly in foil and freeze them for as long as 2 days. Allow them to defrost for about 15 minutes before using them).
Have the chocolate, salted peanuts and coconut out in 3 separate shallow plates or bowls and let the guests dip and garnish their frozen bananas to their liking.
Tools Necessary-
Skewers
Cutting board
Paring knife
Measuring cups and spoons
Several small bowls