Baked Apples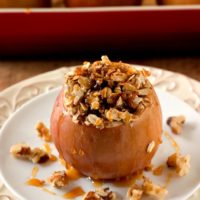 Apples are an American standard for autumn. Although this dish is delicate to make, it is well worth the time. Custard filled apples with meringue and sugar, what's not to like?
A recipe from the 18th Century says:
"Core them as the last, and fill them with a good marrow cream; baste the outside with the whites of eggs, to make as much fine sugar stick to it as possible; bake them in a slow oven upon the dish you intend for the table and serve them hot or cold."
— Dalrymple, George. "The Practice of Modern Cookery"
Today, we have many kinds of apples to choose from.
4 apples (red variety such as Red Delicious or Roma)
1/2 cup light brown sugar (packed )
1/4 cup pure maple syrup
1/2 cup rolled oats
1/3 cup crushed nuts (pecans or walnuts)
2 tablespoons butter
1/2 teaspoon cinnamon
1 pinch salt
Heat oven to 375°F.
Wash and core apples leaving the bottoms intact. Peel top half of apples.
Butter a square pan.
Add cored apples to the square pan.
Using a small bowl, combine oats, brown sugar, cinnamon, salt, maple syrup and nuts.
Stuff apples until overflowing, and allow extra mixture to fall into the pan.
Cover with foil.
Bake for 45 minutes or until the apples are tender.
Serve at room temperature and top with small marshmallows or ice cream.
Equipment List:
Bowl or cutting board
Medium sized pan
Peeler
Apple Corer