Polenta is a Northern Italian dish. The main ingredient is corn meal. It doesn't matter if it is fine or course.  Before American corn was brought over to Europe, they used Barley.
A great read is found at How to Make Polenta – The real rules
At Chefsville, there are times we want to introduce people to new concepts using basic cooking techniques. This is one of those recipes because polenta is a great platform and offers the cook a great opportunity for creative variations.
This simple recipe has been done by thousands of kids in the DFW area, and almost everyone loved it. This is also a great recipe if kids have texture acceptance problems. By focusing on the taste we have found that kids begin to become familiar and less sensitive to the texture.
Polenta can be put into a mold (circular or rectangular) and then cooled. Once cooled, cut into your favorite shapes. Then pan fry using a non-stick skillet and some olive oil until polenta pieces are brown. Turn over and cook the other side until brown.
Top with your favorite tomato sauce and mozzarella cheese. Be creative. Polenta, either soft or fried or baked (400 degree F – 30 minutes) will be a delight. Top with your favorite stew or sloppy joe or sweet-n-sour meatballs or baked vegetables. I'm getting hungry. This warm and comforting dish will become one of your family favorites.
Cheesy Polenta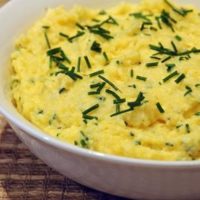 6 cups water
1 1/2 teaspoons salt (plus extra for seasoning)
1 1/2 cups yellow cornmeal or polenta
1 cup freshly grated Parmesan or Cheddar Cheese
1 cup whole milk (at room temperature)
8 tablespoons unsalted butter (at room temperature, cut into 1/2-inch pieces, 1 stick)
1/3 cup chopped fresh flat-leaf parsley or chives or thyme
1 teaspoon freshly ground black pepper
Bring the water to a boil in a large, heavy pot.
Add the salt. Gradually whisk in the cornmeal.
Reduce the heat to low and cook, stirring often, until the mixture thickens and the cornmeal is tender, 12 to 17 minutes.
Remove the pot from the heat.
Add the cheese, milk, butter, and parsley.
Stir until the butter and cheese have melted.
Season with salt and pepper, to taste.
Transfer the polenta to a bowl and serve.
Tools Necessary-
Medium sized pot
Measuring Cups
Serving Bowl
Wooden Spoon or spatula
Whisk