Mac & Cheese with Bacon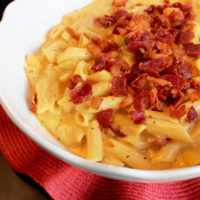 Our 4th president, Thomas Jefferson invented Mac N Cheese. He made a pasta extruder that helped make macaroni. Back then, in the 1700s, macaroni was long and flat. So you would get only 6 per serving.
Every-time I celebrate Thomas Jefferson, I eat a version of Mac N Cheese. This one has bacon to really perk it up. If your family eats bacon, then this is a great recipe for you.
2 tablespoons butter (unsalted)
3 tablespoons olive oil
3 slices bacon (diced)
1/2 pound pasta (any shape that is fun)
1/2 white onion (diced)
1 teaspoon freshly ground black pepper
1/3 cup all-purpose flour
1 garlic clove (chopped)
1 quart whole milk (scalded)
1 cup white bread crumbs
3 tablespoons freshly chopped parsley
2 teaspoons Kosher salt
8 ounces extra-sharp Cheddar (shredded (2 cups))
Preheat the oven to 375 degrees F.
Heat the butter and 2 tablespoons of olive oil in a large (12-inch) sauté pan, add the mushrooms, and cook over medium heat for 3 to 5 minutes, until they are tender. Set aside.
Bring a large pot of water to a boil and add a splash of olive oil and a pinch of salt. Add the pasta and cook for 6 to 8 minutes, until al dente. Drain well.
Meanwhile, melt the 2 tablespoons butter in a large (4-quart) saucepan and whisk in the flour. Cook for 2 minutes over low heat, stirring constantly with a whisk. Slowly whisk in the hot milk and cook for 2 minutes, stirring constantly with a wooden spoon, until the white sauce is thickened and creamy. Off the heat, add the Gruyere, Cheddar, 1 1/2 tablespoons salt, the pepper, and nutmeg.
Combine the pasta, sauce, and mushrooms in a large bowl and pour them into a 10 by 13 by 2-inch baking dish.
Place the garlic and parsley in the bowl of a food processor fitted with the steel blade and pulse until they're minced. Add the bread crumbs and pulse to combine. Sprinkle the crumbs over the pasta and bake for 35 to 45 minutes, until the sauce is bubbly and the crumbs are golden brown. Serve hot.
Equipment Necessary-
2 Pots
Cutting Board
Chef's Knife
Box Grater
Whisk
Wooden Spoon
Adult Supervision