Asian Chicken Noodle Soup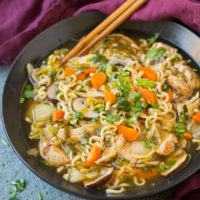 This is one of the world's comfort foods. Each country makes this slightly differently. Some countries add soy sauce, others add fish sauce, or hoisin sauce. Cooking wine can be added as can seaweed and flavored soy sauces. Make it your own by figuring out what you like in it.
4 cups prepared chicken stock (plus 2 tablespoons for slurry)
1/2 teaspoon grated fresh ginger (small diced)
1 tablespoon soy sauce (cut into slivers)
1 tablespoon cornstarch
1 star anise (left whole)
2 eggs (lightly beaten)
2 green onions (chopped)
8 drops dark Sesame oil (or a few more drops, to taste)
1/4 Cup fresh spinach or watercress (chopped)
2 pinches White pepper
2 pinches Kosher salt
1/4 pound egg noodles (chinese style, 2 nests or bundles if packaged)
1/2 cup frozen peas
1/2 cup carrots (sliced on the diagnal or in circles)
Bring soup stock, star anise, grated ginger and soy sauce to a boil.
Add salt and the egg noodles. Cook until al dente, 5 to 7 minutes. Divide noodles among 4 soup bowls.
Add chopped carrots, then the snow pea and green onions. Cook two minutes then add the frozen peas.
In a small cup, make a slurry by combining the cornstarch and 2 tablespoons of cold chicken stock or water. Stir until dissolved.
Slowly pour in the cornstarch mixture while stirring the stock, until thickened. Remove and discard the star anise.
Reduce heat to a simmer. Pour in the eggs slowly while stirring the soup in the same direction.
The egg will spread and feather.
Turn off the heat and add the green onions. Lastly a few drops of sesame oil.
Serve hot.