These fresh fruit nachos are so much fun to make.  They only take a short bit of time and they really make the family happy while they are playing video games, watching moves, board games or just snacking around the house.
Kids love making these and have them invite their friends. You will be the neighborhood hero!
Nachos with Fresh Fruit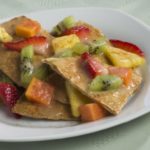 Fresh nacho chips made with cinnamon sugar, topped with a fresh mango yogurt and topped with fruit and your favorites.
They say we made the nacho here in Texas, but I can't find any live footage of this. These are a wonderful version of a healthy choice nachos that are fun to make and fun to eat.
10 flour tortillas
4 tablespoons ground cinnamon
2 tablespoons sugar
2 kiwi fruit
1 pint fresh blueberries (cut in half)
1 mango (sliced)
4 tablespoons honey
2 tablespoons butter, sweet cream unsalted (melted)
1 cup strawberries (diced)
1 cup vanilla yogurt
Preparing the nacho chips
Preheat oven to 325 degrees F.
Mix cinnamon and sugar together in a small cup or bowl. Set aside.
Melt butter. Lightly brush butter on one side of the tortillas, then sprinkle with ½ teaspoon of the cinnamon/sugar mixture on each side.
Stack 3 tortillas on top of each other then cut in ½, then stack and cut in ½ again forming triangles.
Place on baking sheet and bake for 8-12 minutes or until crispy. Place chips on serving platter or in a large bowl.
Preparing the mango yogurt
Mango yogurt: Cut mango, add to blender with yogurt, blend, remove from blender into a small cup/bowl, refrigerate until ready to use. Put in squeeze bottle for fun.
Assembling the nachos
Finely dice fruits and chill in a refrigerator, if using fresh blueberries, wash them before cutting them in 1/2.
Top nachos with mango yogurt sauce. (I use a squeeze bottle- this sauce is great on ice cream as well) then with diced fresh fruit (kiwi – green, strawberries – red, blueberries – blue and any optional fruit you desire)
Suggestion: Top with chopped pecans, sliced almonds, or other nuts of choice; grated/shaved chocolate, coconut or combination of dried fruits.
Be creative!
Top all of that off with either honey or Agave syrup.
Fresh fruit may be substituted with frozen, just drain extra juice off.
Try using bananas, papaya, raspberries, blackberries, and chocolate to grate on top.