This creamy, refreshing condiment pairs perfectly on some homemade pita bread, or with any protein like serving it along side some marinade chicken. YUM!
Tzatziki Sauce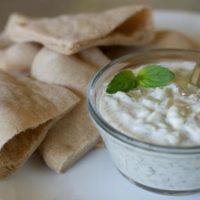 1 medium cucumber (peeled, slicedhalf, seeded and finely chopped)
1 cup plain yogurt
1 tablespoon olive oil
1 teaspoon lemon juice or white wine vinegar
1/2 teaspoon salt
1 teaspoon dill or oregano
1 clove garlic (minced)
In a medium bowl combine all the ingredients and chill for at least 1 hour to allow the flavors to marry.
Serve as a dip or condiment with your meal.