Aubergine (Eggplant) Rolls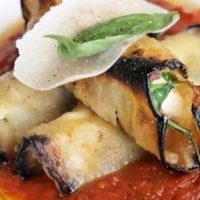 Honestly cheese stuffed vegetables cooked in tomato sauce is so good. If you are looking for an alternative to Lasagna, Pizza and Chicken Parmesan try this dish. This is a very common dish in Europe and used eggplant.
Add basil and garlic to make this taste exciting.
1 cup all purpose-flour (white)
1/4 cup olive oil
1 teaspoon butter (room temperature for greasing wax paper)
1/2 cup Parmesan cheese (shaved)
Eggplant wrapping
2 1/2 pounds aubergine (around 3 or 4)
1/4 cup Kosher salt
Filling
1.5 kg ricotta cheese
4 egg yolks
2 lemons, zested (zest chopped)
1 teaspoon salt
1/2 teaspoon pepper
Sauce
Layer before rolling
12 sun-dried tomatoes (diced and reconstituted)
25 arugula (leaves, whole)
Slice the aubergine 2mm or 1/10th inch thick lengthways, place on a sheet pan then sprinkle with kosher salt. Leave for 45 minutes to allow the excess water to leak from the aubergine. Rinse under running water and damp with kitchen paper towel until dry.
Dust slices with white flour and sauté in olive oil on medium heat each slice of aubergine until golden brown. Reserve.
In a large bowl mix ricotta, egg yolks, shredded Parmesan, salt and pepper. Put the ricotta mix in a piping bag.
Place the eggplant slices on a table. Pipe the ricotta mix over each slice, topping each with the sun-dried tomatoes and 3-4 leaves of arugula.
Roll the eggplant around the ricotta and place on an oven tray covered with buttered wax paper.
Preheat the oven to 350°F. Bake the rolls for 10 minutes. This is a great time to heat tomato sauce over low heat.
Spoon some tomato sauce onto each of 8 plates, place an aubergine roll on each and finish with Parmesan shavings.
Tools Necessary-
Sheet pan or cookie sheet
Kitchen paper towels
Cutting Board
Chef's Knife
Wooden Spoon
Measuring cups and spoons
Medium bowl
Spatula
Adult Supervision