This dish makes the perfect addition to any family gathering or BBQ. The salty and tangy mixture hits the spot and there's a guarantee that there wont be any left overs!
German Potato Salad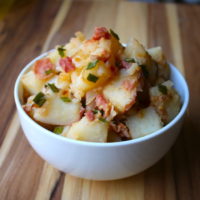 6 small to medium Yukon gold potatoes (cut into 2-inch pieces)
1/2 cup green onions (chopped)
4 slices turkey bacon (cooked until crisp)
3 tablespoons apple cider vinegar
1 tablespoon olive oil
Salt and pepper (to taste)
Slice bacon into bits. Cook bacon in a large saucepan or pot on medium heat for 5 minutes or until crispy brown. Remove to a plate or bowl.
Place potatoes in a large saucepan and pour over enough water to cover.
Set pan over high heat and bring to a boil. Boil 8 minutes, until fork tender.
Drain and while still warm, transfer to a large bowl and add onions, cooked bacon, vinegar, and oil.
Season, to taste, with salt and black pepper.
Tools Necessary-
Cutting Board
Chef's Knife
Measuring Spoons
Medium Pot
Mixing Bowl
Wooden Spoon