Baked Zucchini Fries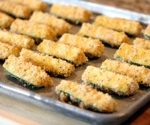 Wedged zucchini dusted then coated in Panko bread crumbs; baked until crunchy, golden brown. These are a great alternative to potato fries with less than half the carbs and calories!
Now a days, people are looking for alternatives to french fries. Once you master the techniques in this recipe, move on to other baked vegetables.
3 zucchini (medium to large )
2 eggs
1/2 cup Panko bread crumbs
2 tablespoons Parmesan cheese (grated)
1 tablespoon dried parsley
1/4 teaspoon garlic powder
1/2 teaspoon oregano
1/2 teaspoon paprika
1 teaspoon salt
1/2 teaspoon black pepper (freshly ground)
Pre-heat oven to 425⁰F. Spray a cookie sheet or line it with a Silmat. Set aside.
Cut zucchini into long thick cuts just like steak fries. Sprinkle with salt and pepper.
In a medium bowl, break the eggs. Beat the eggs using a small whisk or fork. Season with parmesan cheese, powdered garlic, parsley, oregano, paprika. Blend well.
In a second medium bowl, put in the panko bread crumbs or other breadcrumb mix.
Take the zucchini, and dip into the egg mixture, then place in the bread crumb mixture. Coat the entire zucchini stick with bread crumbs then place on the cookie sheet. Repeat until all fries are made.
Cook in middle rack in the oven for 12-16 minutes or until the fries are golden brown. Remove from the oven and let cook for at least 3 minutes.
Tools Necessary-
Cutting Board
Whisk
Wooden Spoon
Measuring cups and
spoons
2 Medium bowls
Chef's Knife
Cookie sheet