Grilled Pineapple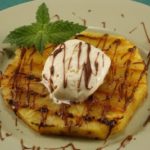 Grilled fruit has become popular in the recent years gaining ground to the old fashioned fried desserts.
These fruit rings can be seasoned and topped with anything that your imagination could think up.
Pineapple is all American. Explorers paid lots of money to get a hold of pineapples and transport them around the world.
1 pineapple (ripe and juicy)
1/4 cup brown sugar
1 teaspoon cinnamon
Cut both ends of pineapple and peel.
Slice pineapple and cut the core out.
Using a small bowl, mix brown sugar and cinnamon.
Turn indoor grill on or use a broiler. (If using a broiler, line a baking sheet with aluminum foil. Then place the pineapple rings on the baking sheet.)
Layout on a cutting board some of the sliced pineapple. Sprinkle about ½ teaspoon of the sugar/cinnamon mixture on top.
Grill for about 2 – 3 minutes each side.
Replace the pineapple with your favorite grill-able fruits.
The flesh should be able to hold up to this method of cooking. Be creative and invent a masterpiece.