Apple-Cheddar Soup with Bacon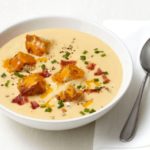 This soup is very satisfying. Apple, cheddar cheese and bacon are a great flavor combination. Topped with croutons and chives elevates the dish.
3 slices bacon
1 onion (small sized, chopped)
2 apples (medium sized, peeled and chopped)
1 potato (medium sized, peeled and chopped)
3 cups chicken broth (low-sodium)
1.5 cups apple juice (unsweetened)
Kosher salt
pepper (freshly ground, to taste)
2 cups shredded extra-sharp cheddar cheese
2 slices bread (toasted)
1 bunch Chopped fresh chives (for topping)
Cook the bacon in a large pot over medium heat until crisp, 4 to 5 minutes per side. Transfer to paper towels to drain; let cool slightly, then roughly chop.
Pour out all but 2 tablespoons of the drippings from the pot. Increase the heat under the pot to medium high. Add the onion, apples and potato. Cook, stirring frequently, until the apples are soft, about 8 minutes.
Add the chicken broth, apple juice, and ¾ teaspoon salt and pepper to taste.
Bring to a simmer and cook until the potato is soft, 10 to 12 minutes. Stir in all but 2 tablespoons of the cheddar until melted.
Work in batches, transfer the soup to a blender and puree. Then return the soup to the pot and season with salt and pepper.
Top with croutons, bacon, chives and a bit more pepper.