Baked Chicken with Toasted Spices and Orange-Apricot Glaze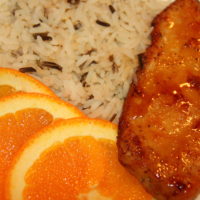 Kids love dipping chicken pieces in sauce. Adults love grilled meats, pork, fish and poultry. Having the combination together makes for exciting dishes.
All over the world, glazed poultry can be found. There is the maple glaze, whiskey glaze, honey mustard, honey soy, lime soy, orange glazed, etc… The list can be as long as a few pages of print.
This recipe takes the glaze further by using toasted spices, baking technique, and adding a curry mayonnaise drizzle.
Apricots are a completely under-utilized fruit. While the demand for fresh apricots is growing, this dish celebrates the integration of this ingredient with poultry, spices and orange.
1 1/2 tablespoons coriander seeds
1 tablespoon cumin seeds
1/2 cup chopped fresh cilantro leaves
1 bunch scallions (trimmed and minced)
2 teaspoons Kosher salt
1/2 teaspoon freshly ground black pepper
8 skinless chicken breast fillets skin removed (organic preferred
Curried Mustard Mayo:
1 teaspoons canola oil
2 teaspoons minced fresh ginger
1 tablespoon minced fresh garlic
1 teaspoon sweet curry powder
1/3 cup mayonnaise
1 1/2 tablespoons honey Dijon mustard
3 tablespoons minced fresh cilantro leaves
Sea salt and freshly ground black pepper
Orange-Apricot Glaze
4 tablespoons apricot preserves (chopped)
1 tablespoons unsalted butter
1/2 C orange juice
1/4 teaspoon cayenne pepper
canola oil
3 cups really fresh (crisp watercress leaves)
Cilantro and watercress sprigs for garnish (optional)
Prepare a baking sheet by lining it with foil or use a silicon mat.  Using a silicon mat means you can cook with less fat.
Use a small sauté pan, heat over medium heat for 2 minutes, then add coriander and cumin seeds and toast the spices moving them in the pan for 2 minutes or until fragrant and lightly browned. Remove from pan, cool and grind (use a mortar and pestle or a spice grinder.
Place ground spices in a large bowl; add cilantro, scallions, kosher salt and 1/2 teaspoon pepper; mix well. Cover each chicken breast with this mixture and refrigerate for one hour.
Curried Mustard Mayo:
Using the same sauté pan that spices were toasted in, add and heat canola oil over medium heat. Add ginger and garlic and sauté for 2 minutes. Stir in curry powder and continue to sauté for 1 minute. Remove mixture to a mini food processor; reserve pan. Add mayonnaise and mustard to processor and puree. Remove to a small bowl, stir in cilantro and season, to taste, with sea salt and pepper. Refrigerate until needed.
Orange-Apricot Glaze:
Place preserves, butter, orange juice and cayenne in reserved saucepan and cook over medium heat,
stirring, until preserves and butter have melted. Boil glaze for 4 minutes. Remove from heat and set aside.
Bake Chicken at 400 degrees F for 4 minutes or broil for 2 minutes. Brush Chicken with half of the glaze; cook for 1 minute. Flip Chicken, brush with remaining glaze; Cook for 1 additional minute. Remove from heat.
Place the Chicken on top of the watercress leaves and top with 1 teaspoon of mayonnaise mixture;
Garnish platter or dinner plates with cilantro and watercress sprigs, as desired.
Tools Necessary- 
Baking Sheet
Silicon Mat
Measuring Cups
Measuring Spoons
Sauté Pan
Mortar & Pestle
Large Bowl
Small Bowl
Mini Food Processor
Pastry Brush