Banana Spring Rolls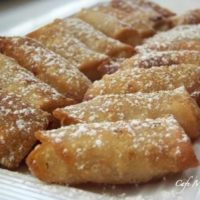 1 package spirng roll wrappers
3 bananas
1 tablespoon cinnamon sugar mix (to taste)
1/2 cup Coconut Oil
1 cup rhubarb
1 cup strawberries
1/2 tablespoon lemon juice
1/2 cup sugar
1/4 cup coconut milk
1 cup water
Slice bananas into thirds.
In a bowl, combine coconut milk, cinnamon/sugar, and bananas. Set aside.
In small sauce pan simmer rhubarb, sugar, lemon juice for 15 minutes, 10 minutes into simmer add strawberries. Cool and send through the blender. Refrigerate
Take a piece of banana place in the center of wrapper and roll.
Heat coconut oil in small sauté pan, pan fry until golden brown.
Equipment needed –
Knife
Cutting Board
Small Sauté Pan
Small Sauce Pot
Blender