Waffle Iron Hashed Browns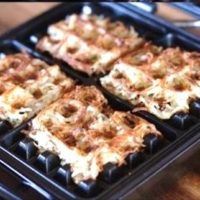 Waffle iron hashed browns are fun! This platform for cooking potatoes will allow for crispy crunchiness plus nooks and crannies which are great for toppings. While keeping a moist, cooked interior. A waffle iron helps achieve this.
A note on cooking technique for this recipe is that a good cook controls the amount of moisture in a dish. By making this recipe, one will learn 3 great methods for controlling moisture.
These moisture control skills are called for again and again in cooking.
Once this basic recipe is grasped, how about adding delicious ingredients like ham and cheese; or top with sour cream chives and smoked salmon; or how about Parmesan style with tomatoes and mozzarella or even poached eggs? Where does your imagination take you? Let us know in the comments!
2 russet potatoes (shredded)
3 Tablespoons canola or vegetable oil
2 teaspoons Kosher salt (1 for extracting water from potatoes, the other teaspoon for seasoning later)
2 Tablespoons onion (grated, or chopped green onions)
2 Tablespoons herbs (of choice (Thyme, basil, oregano, marjoram, dill))
1/2 teaspoon black pepper (freshly ground)
Shred the potatoes on the largest holes of the box grater.
Wrap the shredded potatoes in a kitchen towel and salt with 1 teaspoon of kosher salt. Stir salt in using a spatula and let sit for 5 minutes.
Wring out the towel by twisting and get out as much liquid as possible. Move potatoes to a microwave safe bowl.
Cook in a microwave on high for 2 minutes.
Turn on the waffle iron for at least two minutes. Then brush with oil the tops and bottoms of the iron.
To the microwaved potato bowl, add grated onions and herbs along with 1 more teaspoon salt and freshly ground pepper to taste. Using a spatula, stir the mixture, then divide the grated potatoes into four equal portions into the waffle iron.
Close the waffle iron and cook for 4 minutes or until golden brown on both sides.
Remove from the waffle iron using a tongs, spatula or a wooden spoon, then drain off the extra oil.
Top with whatever your imagination desires. Then serve immediately and enjoy!
To prevent potatoes from turning brown, grate them just before cooking.
Tools Necessary:
Microwave oven
Kitchen Towel
Box grater
Waffle Iron
Spatula or wooden spoon
Measuring cups and spoons
Medium bowl
Adult Supervision