[text-box title="Pasta poll" width="50%" align="center"]

Loading ...
[/text-box]
Eggless Pasta Dough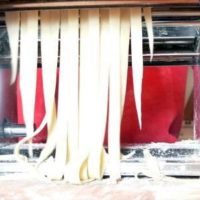 One of the great questions if you are a huge pasta fan is:
Egg or eggless?
Well to be honest, in Italy, the recipe for pasta changes from town to town. Adding eggs was made by more "well to do" people. It does add a slight richness to the dish, but there is absolutely nothing wrong with eggless pasta.
Basically in Italy, they use a different type of flour than we do here in America. They use "semolina" which is a dry duram wheat – very hard flour. Semolina because it basically is a whole grain product has nutritional value. Contrast to that, in America, all-purpose flour is used that doesn't have any nutritional value.
2 1/2 cups semolina flour (or 1¼ cup semolina and 1¼ cup regular all purpose flour)
1 teaspoon Kosher salt
1/2 cup water (have another 1/2 cup ready in case dough is dry)
1 teaspoon olive oil
In a large bowl mix all ingredients together until a ball of dough is formed.
Allow dough to rest for about 30 minutes to an hour. This will allow the wet ingredients to moisten the dry flour(s).
Roll out dough and send through pasta machine according to desired thickness.
Adjust attachments to which desired pasta: fettuccine, or any long strand shaped pasta. Or make your own shapes. There are over 650 different shapes and sizes of pasta. Find your favorites.
Equipment Necessary-
Measuring cups and spoons
Dough scarper (optional)
Chef's knife
Cutting board
Sheet tray
Plastic wrap
Pasta maker or rolling pin
Adult Supervision