Baked Crunchy Chicken Bites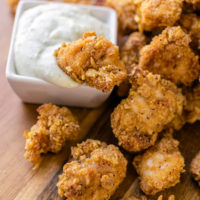 Everyone loves chicken tenders, chicken bites, or popcorn chicken. They are small, cute and taste great.
This recipe demonstrates a technique of lower calorie cooking for our families. Baking and not deep frying. When we remove the cooking fat, in we save hundreds of calories and do our body good.
Try this technique with your favorite sauces. Then, after you get the baking down as a skill, then change the coating. We suggest things like our Cheddar Bites, or replace the crackers with panko.
Panko are Japanese bread crumbs and make for a crispier crunchy chicken bite.
Another fun variation is to replace the chicken with another protein. How about shrimp or scallops or mini crab cakes?
Vegetable oil cooking spray
2 tablespoons 2% milk (or buttermilk)
1/4 cup flour
2 dozen snack crackers
1/4 teaspoon black pepper
4 boneless chicken breast halves
1/8 teaspoon cayenne pepper (or smoked paprika)
1 egg
Preheat the oven to 400°F.
Spray the cookie sheet with vegetable oil cooking spray. Set it aside.
Place the flour, black pepper, and cayenne pepper in one of the plastic bags. Seal the back and shake it to mix the ingredients well. Set it aside.
In the medium bowl, whisk the egg and milk together
Put the crackers in the 2 nd plastic bag and seal the bag or close with a tie. Crush the crackers by rolling the rolling pin over the bag until the crackers are crumbly. Put the crushed crackers in the small bowl.
On the cutting board, use the paring knife to cut the chicken into bite-sized pieces, about 1 inch by 1 inch.
Put the chicken pieces into the first plastic bag with the flour mixture. Seal the bag or close with a tie, and shake to mix. When all of the pieces are dusted with flour, remove the chicken from the bag.
Dip the chicken pieces two-by- two into the egg mixture and then into the cracker crumbs.
Place the chicken pieces in a single layer on the sprayed cookie sheet.
Bake for 10 to 12 minutes or until golden brown. Remove cookie sheet from the oven using the oven mitts.
Tools Necessary-
Baking Sheet
2 – 1 quart plastic bags
Medium bowl
Whisk
Small bowl
Rolling pin
Cutting board
Paring knife
Oven mitts