There are generally three different chocolates available (dark, milk and white chocolate) in Chocolate button forms. These are round disks of chocolate about 1 inch round. These have palm oil and are a wonderful choice for melting and dipping using chocolates. If you can't find chocolate buttons, then use brick chocolate. 'Brick' chocolate comes available in whole or part broken brick form.
White Chocolate Prezels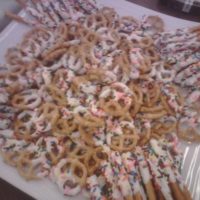 6-8 ounces Chocolate (best quality chocolate (Dark, milk or white))
1 bag Stick Pretzels (and/or regular shaped pretzels, any thickness)
Place the chocolates into a small 1 cup or smaller bowl. Have a small wooden spoon, small whisk or small spatula ready.
Have an adult or teen with permission – melt chocolates using microwave oven in 20 second bursts. After each burst stir once then repeat until chocolates are slightly warmer than your lower lip.
Prepare a place to put the pretzels once dipped so that they can go into the freezer. (Chef's trick: I use a sheet pan lined with either a silicon mat, wax or parchment paper.)
Dip a pretzel, one at a time, ½ way or ¾ way into the chocolate, then place on the sheet pan.
When done place the sheet pan into the refrigerator for an hour or freezer for 15 minutes. The chocolate will setup and thicken.
Tools Necessary-
Cutting Board
Paring Knife
Chef's Knife
Measuring cups and spoons
Medium & Large mixing bowl
Spatula