Baklava Rolls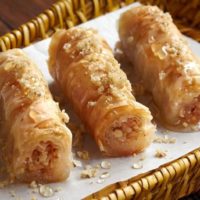 1 cup finely ground walnuts (pulsed in a food processor)
1/4 cup panko breadcrumbs
2 tablespoons granulated sugar
1/4 teaspoon ground cinnamon
1/4 teaspoon ground clove
12 sheets phyllo dough; thawed
1/2 stick unsalted butter; melted
Syrup
1 cup granulated sugar
1/2 cup water
1/4 cup light corn syrup
2 cloves
1 cinnamon stick
1/2 lemon
1/2 teaspoon rose water
Preheat oven to 325°F.
Combine walnuts, panko breadcrumbs, sugar, cinnamon and clove in a mixing bowl and stir to evenly combine.
Lay 1 sheet of phyllo on a large cutting board and lightly brush with melted butter. Lay another sheet of phyllo on top and lightly brush the second sheet with melted butter.
In a straight line, sprinkle 1/6 walnut mixture parallel and 2 inches from the bottom of phyllo. Fold bottom over mixture and roll all the way to the end. Brush top of phyllo with butter to seal the roll. Gently scrunch both ends into center of roll, trim approximately 1 inch from both ends and place in a greased 9X6 inch baking dish. Brush top with butter.
Repeat with the remaining phyllo creating 6 rolls total. Brush all rolls once more with butter.
Bake for 40-45 minutes or until golden brown.
Meanwhile prepare the syrup. Combine all ingredients for syrup in a sauce pot over high heat except for the rose water which will be added after the mixture cools. Stir together and bring to a boil. Let boil for 4 minutes. Remove from heat and let rest.
Remove rolls from oven and cut each into 3 pieces. Strain syrup over rolls and allow to soak for at least 30 minutes at room temperature.
Gently remove baklava from baking dish and arrange on a large serving platter. Best at room temperature.
Equipment needed-
Food Processor
Sauce Pan
9×6 baking sheet
2 Mixing bowls
Spatula
Pastry Brush
Measuring cups
Measuring spoons