New York Style Bagel Bites
People from all over the world love New York bagels. This recipe, which I really love, came from one of my favorite contestants on the Next Food Network Star.
Bagel Bites – small, stuffed with fun ingredients, this recipe has a blend of cream cheese and berries. Make up your own incredible filling.
To make it awesome, the topping is an egg wash and then beautiful turbinado sugar to give the crust a crunch and sweetness.
These could be a new family favorite for Saturday mornings in your family as well.
New York Style Bagel Bites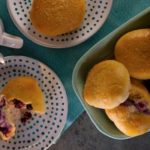 Dough:
1.5 cups water (warm (below 107 degrees F))
2 tablespoons sugar (plus 2 teaspoons)
1 envelope dry active yeast ((1/4 ounce packet))
4.25 cups flour, all-purpose (plus more for kneading)
2 teaspoons kosher salt
2 tablespoons melted butter
Filling:
6 ounces fresh blueberries
8 ounces fresh strawberries (chopped)
8 ounces cream cheese (softened)
2 tablespoons strawberry jam
Topping:
1 large egg
2 tablespoons turbinado sugar
Combine the water, sugar, melted butter and yeast in the bowl of a stand mixer fitted with the paddle attachment, mix to combine. Allow to stand until bubbly, about 4 minutes.
Add 2 cups flour, the salt, and mix on low speed until well combined, about 2 minutes.
Switch to the dough hook attachment. Add the remaining flour gradually and mix on low speed until fully incorporated, about 2 minutes.
Turn dough out onto a lightly floured surface. Knead until the dough is heavy, smooth, and not sticky, about 5 minutes. Lightly oil a bowl, place the dough in the bowl, cover loosely and set aside to rise until doubled, about 1 hour.
In a medium bowl, combine the strawberries and blueberries. Add the softened cream cheese and strawberry jam and mix until well combined. Set aside.
Heat oven to 375°F. Divide dough into 12 pieces. Best way is to portion the dough evenly roll the dough into a log shape. Cut the log shaped dough in half, and then cut those in half leaving 4 equal pieces, cut those pieces into thirds giving 12 even portions.
Take one piece of dough and flatten it into a 4 inch circle. Place 2 ½ tablespoons cream cheese mixture in the center. Fold up the ends of the dough and pinch closed like an potsticker. Tuck the ends into the center and twist to form a nice ball. Be careful not to make the bottom of the roll a lot thicker than the top to keep the dough even around the filling.
Place the roll, seam side down, on a baking sheet lined with parchment paper. Repeat with the remaining rolls.
Beat the egg in a small bowl with 1 tablespoon water. Brush the rolls with the egg wash and sprinkle with turbinado sugar.
Bake in the preheated 375 degrees F oven until golden brown, 20 to 22 minutes. Allow to cool before serving.
The filling is very hot after cooking. Please allow these to cool for at least 20 minutes before serving. Great with milk, coffee or any morning beverage.