Apple Tart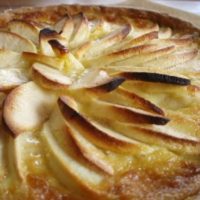 Dough
1 Cup Flour
1/2 Teaspoon Sugar
1/8 Teaspoon Salt
6 Tablespoon Butter (Softened)
3 1/2 Tablespoon Chilled Water
Filling
5 Apples ((Peeled, Cored, Sliced))
4 Tablespoon Butter (melted)
5 Tablespoon Sugar + ½ Teaspoon Cinnamon
2 Teaspoon Lemon Zest
In a food processor combine flour, sugar, salt, water, and butter pulse until coarse crumble is formed.
For the filling peel, core, and slice apples about ¼" thick.
In a bowl toss sliced apples with sugar, cinnamon, and lemon zest
Roll out tart dough into pan, trim edges.
Layer apples around tart pan, brush melted butter over tart
Sprinkle with sugar and place tart pan on sheet tray.
Bake in the center of the oven for 45 minutes.
Tools Necessary-
Food Processor
Measuring cups and spoons
Chef's Knife
Cutting Board
Sheet Tray
Pastry Brush
9" Tart Pan