Julia Pearl Southern Cuisine in Plano Opens
This article is a review of our evening at the Grand Opening of Julia Pearl Southern Cuisine in Plano, TX. We had a 7:30pm reservation and the restaurant was ready for Sarah and I. We were seated promptly not too far from a warm cozy fireplace.
A gentleman came up and introduced himself as our server, "Andrew". He took very good care of us and he had a knowledge of the food and beverages available which was a delight.
After mulling over this awesome menu, which really is the best I have ever seen for a "southern cuisine" menu, we decided to share an appetizer. Tonight it was "Pork Belly".
Take a look at this: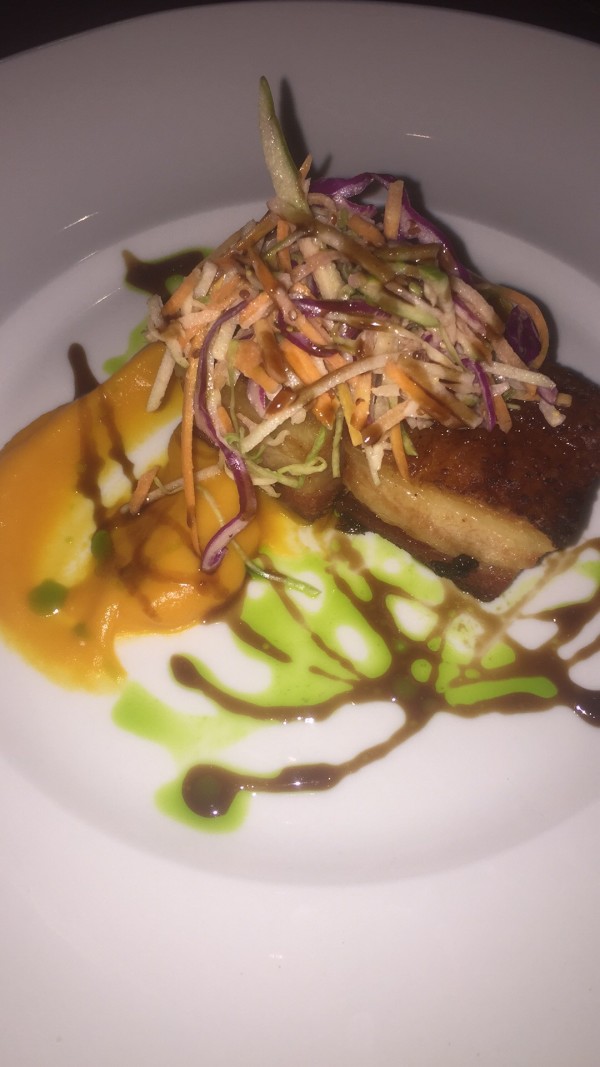 This started was a star! Perfect for Sarah who had never had pork belly before.
Oh! This gets better.
For dinner, Sarah ordered the Pork Chop with bacon mashed potatoes and collard greens. That sounds incredible!
I ordered the Shrimp and Grits. Both of us have never ordered these dished before anywhere so we knew we were in for a treat.
Before I show you the PICS – understand the story behind the chefs of @jpsouthernfood
I have been a fan of Chef Tre Wilcox since he was a contender on Top Chef. It was an honor to meet him years ago at the food and beverage show in Dallas where he was doing a few demonstrations against a contender of the Next Food Network Star.
The Executive Chef at Julia Pearl Southern Cuisine is Chef Jermaine Brown. For those of you who don't know, Chef Brown has been with Chef Tre for what I was told, 20 years! This is Chef Brown's first strike at his own restaurant.
It says a lot about a Chef in order to stay with another chef for that long. I rebuild a restaurant in Preston Hollow and the owner argued with me daily about his philosophy that chefs do not like other chefs. I told the owner of the Kitchen At Preston Hollow that he was wrong.
Secondly, it turns out that Chef Wilcox is the culinary director and is helping launch the restaurant. I don't know if you know how hard it is for a chef to open a restaurant, but to get it right the first time, it is the best thing to have the mentoring chef help you.
So here are the pictures. Eat it up! This was the best food I have had in quite some time, like a long time.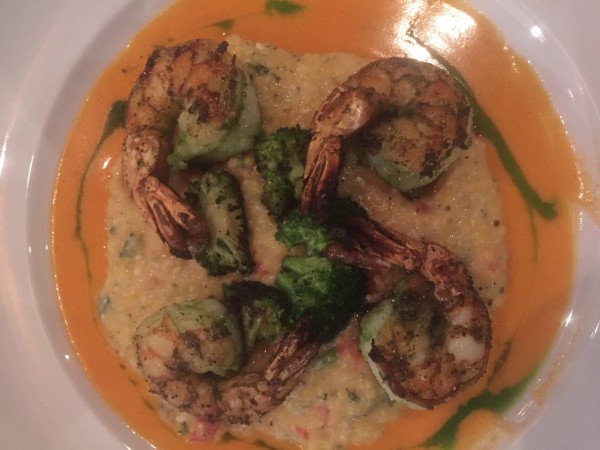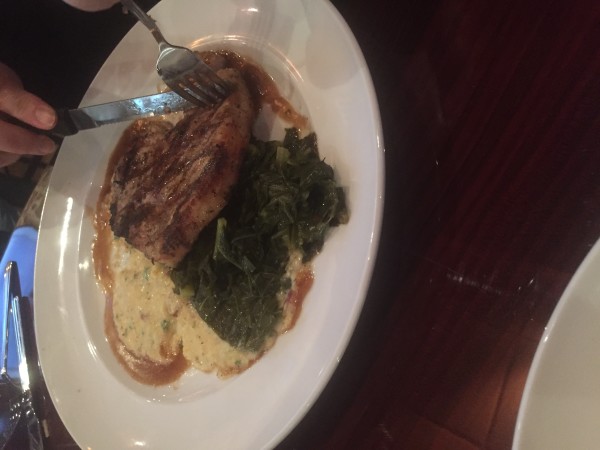 Our server Andrew recommended a red wine that went very well with all of the dishes. He also was a joy to have around. He timed his entrances and exits properly and I decided to ask him about who he was. Andrew carried on a positive and delightful conversation. We spoke about the food and the vision for the restaurant.
A few minutes later, Chef Jermaine Brown comes out to meet us. He didn't come to us in any strange way. He just came up to our table and asked if we were enjoying ourselves. I found this super polite!
I introduced myself to Chef Brown, explaining I was a chef and I work with kids all over the metroplex. He appeared really happy to hear who we were and that we have a solid culinary message for families. We asked him what his favorite item was on the menu so that we would order it next time.
Any good and self-respecting chef would answer this way, which Chef Brown did! He answered, well, I really can't pick any one thing because I love them all. That was the perfect answer.
After a few more minutes of learning about each other, I knew that he had to get back on to the Grand Opening as there were other clients who I'm sure he wanted to meet.
Sarah, my love, I love introducing you to the most incredible and wonderful people around. For Chef Brown to come and spend a few minutes with us made us very happy. I am so excited that now I can teach about "Southern Cuisine" to our Chefsville Kids and there is a place right here in Plano. We used to have to go down to South Dallas to get what good Southern Cuisine.
Dessert came next. Sarah ordered the Lemon Pound Cake and I ordered the special of the night, Apple Pie. Both were a delight.
To top off the evening was a visit from Chef Tre Wilcox himself to our table. Now, he may not have remembered me, as I met him years ago, and I know he has met at least a quarter of a million people since. I simply took two minutes to re-introduce myself, then he picked up the conversation from there.
To congratulate these two men for opening a most incredible restaurant is very inspiring for my career. It was rewarding to be able to sit in their restaurant and listen to them speak about food, their lives and each other.
I was able to relate my own story which was a comparison to Chef Brown. His mentor and chef that he has been with for so many years was helping him launch the restaurant.
I recently found that the first chef I worked for after Chef Jean Louis Palladin's death from Washington DC – Watergate Hotel (God rest his soul) had also moved to the Dallas area and works for a senior living facility. I was very young when I became a chef. So I joke that when I meet my old mentor, I will go with Chef Tre Wilcox. This way the chef can't beat up on me and chase me around the kitchen. Don't worry, my chef mentor is well into his 50s. But with Chef Tre this chef won't try anything to scare me.
It was all fun, except when I had to get my hearing aid implant removed. Certainly it wasn't entirely my mentor's fault.
This was a great evening, and I hope I have encouraged you to go on a visit to Julia Pearl Southern Cuisine. Let them know Chef Scott sent you.