Because sweet potatoes are low in starch—and a portion of what starches they do possess converts into sugars when heated—most sweet potato fries end up limp or burnt. Giving our sweet potato fries a starchy coating ensures a crust with a crispy texture.
Sweet Potato Fries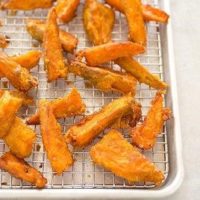 1/2 cup cornstarch
Kosher salt (to taste)
1/2 cup cold water
1 teaspoon baking soda
3 pounds sweet potatoes (peeled & cut into ¾ inch wedges, sliced crosswise)
Oil spray
Adjust oven rack to middle position and heat oven to 425⁰F.
Set wire rack in rimmed baking sheet.
Whisk cornstarch and 1/2 cup cold water together in large bowl.
Bring 2 quarts water, 1/4 cup salt, and baking soda to boil in pot. Add potatoes and return to boil. Reduce heat to simmer and cook until exteriors turn slightly mushy (centers will remain firm), about 3 minutes.
Whisk cornstarch slurry to recombine. Using a slotted spoon, transfer potatoes to bowl with slurry.
Using rubber spatula, fold potatoes with slurry until slurry turns light orange, thickens to paste, and clings to potatoes.
Place on the wire rack which is in the baking sheet, then spray with a touch of oil and place in the oven for 14 – 22 minutes. Using tongs, turn if needed.
Season with salt to taste. Serve immediately.