This could be your go to for a simple and delicious frosting! Whether you want to pair it with a chocolate cake or eat it straight out of the bowl is your choice, this frosting is addicting! (Nicole)
White Chocolate Filling and Strawberry Frosting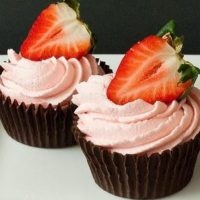 White Chocolate Filling for Cakes Cupcakes
1/4 cup whipping cream
9 ounces white chocolate
2 Tablespoons butter (unsalted, sweet cream, softened)
Strawberry Frosting
2 sticks butter (unsalted, sweet cream)
1/2 cup strawberries (pureed)
2 Tablespoons Shortening
3 cups Powdered sugar
1 pinch salt
White Chocolate Filling for Cakes Cupcakes
Melt the ingredients in a saucepan over low heat.
Stir the mixture constantly until melted and smooth. Be careful not to burn.
Remove from the heat to cool completely.
Strawberry Frosting
In the bowl of an electric stand mixer with a whisk attachment, whip the remaining 1 pound softened butter until creamed.
Add the powdered sugar and strawberry puree and mix until the ingredients are evenly incorporated and the frosting is smooth and creamy.
Tools Necessary-
Blender and strainer
Mixer
Cupcake pans
Wooden Spoon or Spatula
Medium sized Bowls