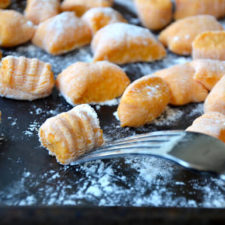 Gnocchi is fun to make. Its from North Italy. And several shapes are acceptable. Plus there are many sauces that go with gnocchi. Get the family together for this activity, it can be done in a short amount of time and there is plenty of satisfaction.
Does the FDA and the USDA allow us to eat cloned animals and cloned animal milk? Most people think it is strange if we are eating meat and drinking milk from a cloned animal.  The answer is "Yes" and that there are no requirements for food and products from cloned animals to be labeled as of yet.
New York Style Bagel Bites People from all over the world love New York bagels. This recipe, which I really love, came from one of my favorite contestants on the Next Food Network Star. Bagel Bites – small, stuffed with fun ingredients, this recipe has a blend of cream cheese and berries. Make up your own incredible filling. To make it awesome, the topping is an egg wash and then beautiful turbinado sugar to give the crust a crunch and sweetness. These could be a new family favorite for Saturday mornings in your family as well.
Super-food Salad This is an easy and healthy dish that tastes great. It uses the lime zest and cilantro can be added for a darker green color. The lime keeps this salad from oxidizing. As an option add cilantro since this herb goes great with lime. Avocado has so many health benefits according to many medical studies. Papaya is unique because it is not over-commercialized and still retains its intensity of vitamins and minerals. Together this salad really brings up these ingredients to superfood status. Avocados do not contain any cholesterol or sodium, and are low in saturated fat. More potassium than a banana. Loaded with heart healthy fatty acids. Contains a really great amount of fiber. It is said that eating avocados can lower cholesterol and triglyceride levels. Trivia: Known as "Alligator Pear". There are so many health benefits of eating papaya. Some are listed here but this link …