[text-box]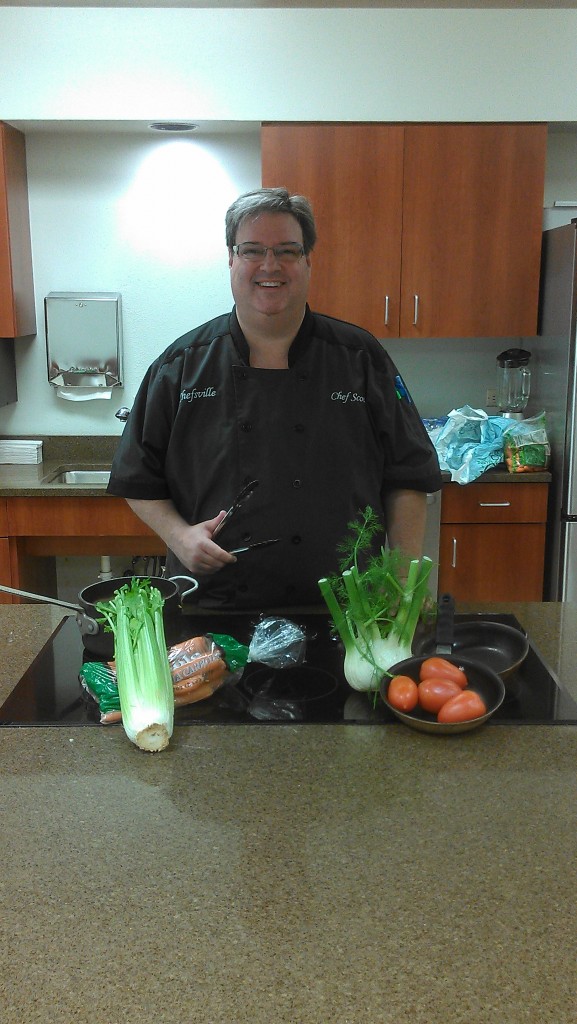 Chef Scott Horwitz
Scott lived in the Washington DC area where his love for food began in his teens and his mentors were Julia Child, Jacques Pépin and Jean Louis Palladin.
While in Washington, DC, Scott taught private cooking classes taking his students on tours to restaurants and up-scale food outlets; and catered for several federal and state officials.
In 1992, Chef Scott began his work in education as an advocate for children's education for multi-channel cable initiatives such as "Cable in the Classroom" and "Assignment Discovery".
Scott moved his family to North Texas in 1996 where he continued his education in ministry, communication and family crisis management. Scott has gone on several missionary journeys around the world and has helped thousands of families as he has traveled to Japan, China, Asia, Philippines and his tapes and materials have gone to India, South America, Africa and Australia. Scott has raised funds for missions and youth educational programs.
After having consulted the best in TV and Radio broadcasting, the concept of Chefsville™ was developed. Chefsville will expand Chef Scott's influence to reach an international audience.
Chef Scott's passion for working with children, his well-regarded advice and cooking skills makes him a great host for Chefsville™. Chef Scott serves as executive director of Chefsville™. Chef Scott has worked with over 250,000 kids and adults in the Dallas/Fort Worth Metroplex through libraries, schools and parks and recreation departments. In 2008 demand and focus went towards the classes and workshops. In 2009, camps were added along with three new services, "Kitchen Pirates", "Honor the Family" and children's programming for festivals. In 2013 came "Math Chefs", "Science Chefs", "Language Arts Chefs", "History Chefs", "Geography Chefs" and "Space Chefs".
Chef Scott conducted on-sight classes with Sprouts Farmers Market, been a guest chef at Market Street United and Vitamin Cottage stores in Texas.
Chefsville delivers life-skill education to kids through the lens of a chef. As a chef, Scott has the ability to offer hands-on learning opportunities while demonstrating how cooking relates to the core academic subject of language arts, math, science, social studies, and fine arts.
Kids love these connections!
Today, Chef Scott sits as a member of the Dallas Coalition for the Prevention of Childhood Obesity, the Healthcare Commission of Collin County and on the program advisory board for Remington College School of Culinary Arts. Chefsville offers service learning opportunities to Remington College students, students of Collin County Community College, Le Cordon Bleu, El Centro, and The Art Institute of Dallas. Chef Scott lives in Texas with wife Sarah and his children, Christopher, Dorian, Timothy and Chelsea.[/text-box]