On December 28th-31st 2015, Texas A&M Cooperative Extension Program offered a Winter Food and Nutrition Camp at the Rapturea Outreach Center in Oak Cliff. Twenty-five youths from 4-H participated. Some of the objectives were to:
1. Increase knowledge of careers and nutrition
2. Increase knowledge of MyPlate
3. Increase awareness of minorities owned businesses in the field of food/nutrition.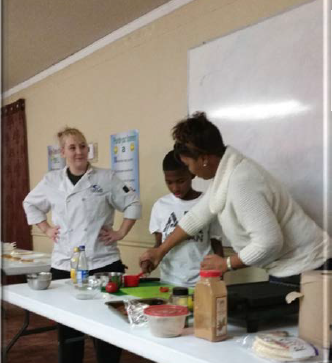 Monday, December 28th, 2015 Chefsville Chefs Leanne Despault and Danyelle Carpenter, Collin County Community College students worked with the 4-H youth to make pita bread with exotic sauces like Greek Tzatziki.
---
4-H is one of many community groups that Chefsville supports in the Dallas Metroplex. If you have an organization that you would like to offer Chefsville programming at, please contact us below at the bottom of this page. Chefsville strongly supports community events to help build a healthier lifestyle for our local communities.
Prairie View Cooperative Extension A&M University
Texas A&M Agrilife Urban Programs- Dallas