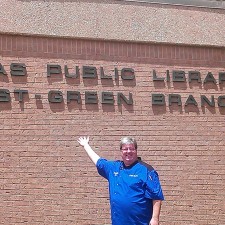 Library cooking programs are hot! Chefsville's excitement about our library cooking programs is contagious. It doesn't matter if a library has a commercial or a residential style kitchen. Chefsville can put on a library cooking program with simple facilities and minimal furnishing such as tables, trashcans and access to a sink.
A Word About Cooking Competitions Cooking competitions are the rage right now! This is Chef Scott, founder of Chefsville. I found an interesting article about cooking competitions and wanted to comment on the remarks made. There were some very true insights in this article by 2 extremely influential forces in the food industry, Alice Waters and Jacques Pepin. Chef Alice Waters is one of the original founders of the farm to plate movement from back in the late 1970s.
Waffle iron hashed browns are fun! This platform for cooking potatoes will allow for crispy crunchiness plus nooks and crannies which are great for toppings. While keeping a moist, cooked interior. A waffle iron helps achieve this.
A note on cooking technique for this recipe is that a good cook controls the amount of moisture in a dish. By making this recipe, one will learn 3 great methods for controlling moisture.
These moisture control skills are called for again and again in cooking.
Once this basic recipe is grasped, how about adding delicious ingredients like ham and cheese; or top with sour cream chives and smoked salmon; or how about Parmesan style with tomatoes and mozzarella or even poached eggs? Where does your imagination take you? Let us know in the comments!