Julia Pearl Southern Cuisine in Plano Opens This article is a review of our evening at the Grand Opening of Julia Pearl Southern Cuisine in Plano, TX. We had a 7:30pm reservation and the restaurant was ready for Sarah and I. We were seated promptly not too far from a warm cozy fireplace.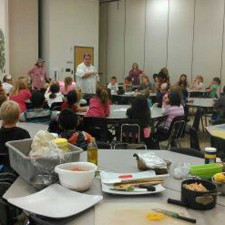 Chefsville hails Jamie Oliver's "Food Revolution" There is a food revolution in North Texas to help families make healthier choices when it comes to food. Nutritional cooking is fun, colorful, satisfying and can engage all family members.
Chefs-in-schools is an initiative of Chefsville, a non-profit corporation in North Texas, serving the DFW metroplex. Since 2009, we have worked with over 250,000 students in several school districts. Chefsville hails Michelle Obama's "Chefs Move to School Initiative" On May 13, 2010 Assistant White House Chef and Food Initiative Coordinator, Sam Kass announced "Chefs Move to Schools" Program.