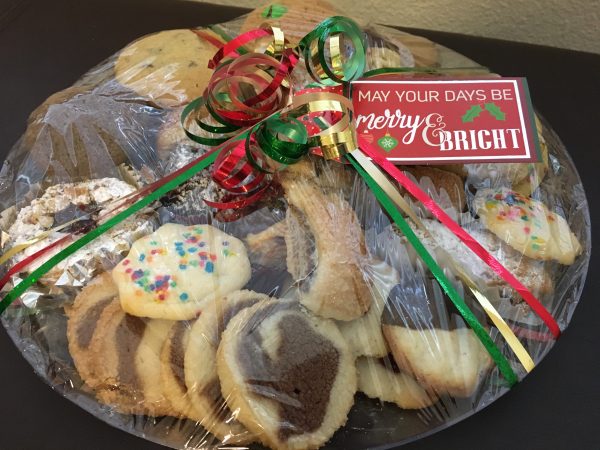 One of the joys of being an educational non-profit is to be able take the "old" and make it "new" again. This year, Chefsville is honored to have a Master Baker and Master Pastry Chef. Chef Richard Zang goes out to schools and works with hundreds of children each week sharing his over 50 years of experience.
For you, we want to share the joy of Classic European Holiday Treats such as these macaroons, truffles, twists and cookies.
Your tray will come with an assortment of dreamy coconut macaroons, rum truffles, Linzer cookies, butter cookies, cinnamon twists, Heidesand cookies, English Bobbie(s), ginger rolled cookies, peanut butter cookies, sugar cookies, chocolate chip, and double chocolate chip cookies.
Specialty bakers and pastry artists offer specialties that have ingredients that work in harmony to create a delightful experience. The smells and tastes of these classic holiday treats have been family favorites for generations.
Each set is sure to delight!
We will deliver cookies once a week to various school campuses and central business locations. Your order will be delivered being freshly made and beautifully packaged for you, your family and guests.
All sales go to benefit Chefsville, an educational non-profit that teaches kids and families the joys of "Cook It Yourself" foods. Chefsville connects cooking with family, community and the academics through school programs, camps, classes, and workshops. Chefsville is a 501c3 operating from the DFW Metroplex.
Delivery Schedule for educators –
Mondays – Wylie – Akin Elem., Birmingham Elem., & Smith Elem.
Tuesdays- Draper & Harrison Intermediates, & Watkins Elem.
Wednesdays- Bush, Cox, Saigling Elem.
Thursday – Coppell – Cottonwood Creek
Friday – Davis Elem.
If you are not an educator on the above route, please give delivery instructions below: