[text-box width="110%" align="center"]
Girl Scouts Cadette Eating for You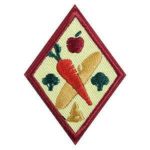 OMG – this program is really educational & super entertaining!
[unordered title="Eating for You requirements are:" align="left"] [line]Learn how good nutrition helps the body stay healthy[/line] [line]Discover how what is eaten affects the skin[/line] [line]Explore how diet affects stress level[/line] [line]Investigate how what is eaten affects sleep[/line] [line]Look at how diet affects the energy levels[/line] [/unordered]
For 6th, 7th & 8th graders, $26 per child.
[/text-box] [text-box width="110%" align="center"] Chefsville Kids™ has designed a set of cooking programs based on the new Girl Scout program requirements. These are hands-on cooking sessions filled with lively discussions and activities. Your girls will work with our chefs to measure, mix and prepare deliciously (and healthy) meals and snacks – all while they complete steps toward earning their new or Legacy Cooking Badges.
Eating for Beauty begins with a lively discussion and open-ended engagement of common sense as it deals with hydration, sleep, exercise, what serving sizes are and eating by color. Scouts will see for themselves the benefits of eating and mixing colored foods to get the most vitamins and minerals. Health benefits are discussed along with identifying nutrients.
Eating for Beauty continues with learning about how what one eats affects the skin. Antioxidant-rich foods are identified along with a fun ingredient list to help the scouts determine which foods are rich in antioxidants. Next is a discussion on serving sizes. Scouts and parents both love hearing what foods rank on the top 20 list.
Scouts are challenged to do a food makeover where they pick three foods high in sugar, high in salt and high in fats. Scouts then make suggestions to improve the health benefits of these foods.
As a take-home project, each scout discovers what is in their refrigerator to determine the level of fresh food to junk processed foods. Encouragement is offered for the scouts to get used to reading food labels and ingredient lists.
A fun discussion giving the scouts information that allows them to investigate the effects on what is eaten to sleep and stress is. We discuss low-fat, high-fiber foods and show them a two-week test that they can take so they can track these principles for themselves.
The scouts look at ways of keeping the energy up and maintaining a constant healthy blood sugar level. They consider several questions to help them see how diet affects the energy level.
I have had Cadettes tell me they have more than one favorite activity. We also make some healthy food that tastes great. These Cadettes will remember this program for the rest of their lives!
All scout classes have a 6-child minimum or $156.00.
To schedule your event please email us at info@Chefsville.org or call us at (972) 516-0325.
[/text-box] FAQ – Chefsville GSNETX