THIS PAGE IS NO LONGER IN USE:
Please select this link to register: //chefsville.org/calendar
---
---
---
Please be aware of our terms and conditions which are below the school registration links. Registering your child(ren) will constitute that our terms and conditions are understood by the adult signing up for their child(ren). Thank you for allowing Chefsville to play an important role in the after-school time. We are going to have a great time!
Akin Elementary                            Draper Intermediate                   N.D.A.A.
Birmingham Elementary                Groves Elementary                     Smith Elementary
Cox Elementary                             Harrison Intermediate                Watkins Elementary
Dodd Elementary                          McMillan Jr High
---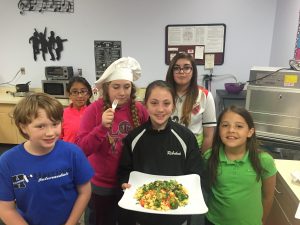 Chefsville programs have the following terms/conditions. By registering, the customer is agreeing with all of Chefsville's Terms and Conditions. If there is a concern please contact Chef Sarah at 972.800.5344 so we can assist further.
1. Sensitive program health and nutrition topics: This program educates about high blood pressure, diabetes, heart disease, and high cholesterol. Discussion points include how the medical industry prescribes medication and how eating foods will help lower the risks of these and other medical issues. In addition, students will learn how their body digests food and connects it to their senses. Please see the instructor immediately if topics are sensitive. As students may only pick up part of this information there will be no refunds allowed once the program has started.
2. Gathering Health Information on Participant: I understand that during the course of participating in the Chefsville Kids programming that personal health information about my child may be collected as permitted for the purposes of (a) Identifying known food allergies, intolerances, dietary restrictions and medical conditions and contact information for the family doctor, should it be necessary; and (b) planning, monitoring and evaluating this program. I consent to the collection, use, and sharing of personal health information about my child by the staff and volunteers of Chefsville. I understand that statistics about this program may be included in annual reports to the community published by Public Health Services, as required or permitted by law. I acknowledge that I have read and understand this consent and that I may withhold my consent or withdraw my consent at any time by providing written notice.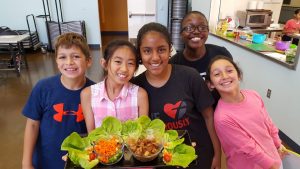 3. Media pictures and videos release: I further give consent allowing myself and/or my child(ren) to be in pictures and videos used to promote this program without pay to me. The pictures or videos may be taken and used without my knowledge or payment to me or my heirs, and current or future representatives.
4. Liability Waiver and Release: I also waive any claim against Chefsville, their agents, servants, insurers, and employees, and hereby release them from any claim, cause of action or demand I may have arising out of or in connection with any personal injury or bodily injury, death or property damage which I, my child, my children, those children under my care and direction, may sustain during the Program. The Program, not licensed by Texas, may meet in a licensed or exempt facility. Cooking in nature can be a dangerous activity. This indemnification shall include, but not be limited to liability settlements, damage awards, costs, and attorney's fees associated with any such claims.  By my signature on this Liability Waiver, I bind my, and current or future representatives, and myself to the terms and conditions of this Liability Waiver.
5. Cancellation prior to the program start date shall be refunded minus $75. No refunds on or after the program start date.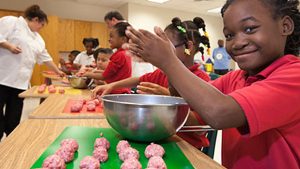 6. After-School Cooking Club is not a specialty program for those on strict Kosher, vegan, pescetarian, carnivorous, Mediterranean, and Keto diets. We may not be able to accommodate all situations. Most of our recipes are vegetarian in nature, a few sessions highlight animal products. Participants will be asked about their food allergies, intolerances, or restrictions before the cooking club starts. We will do our best to accommodate. Our goal is to ensure all clubgoers get the best out of their experience at the cooking club.
7. Our programs are fully capable to provide a safe and enjoyable environment for children with high-functioning ADD/ADHD, Autism, and Aspergers as well as other mental health issues. However, due to the current hiring market, we must be advised of the child's condition prior in order that our designated staff can properly care for them throughout their session. It's vital your child has all necessary medication working before attending as we want all participants to have an equal opportunity of fun without disruption from out-of-control behavior towards others. Please call Chef Sarah at 972.800.5344 and if you leave a voice message include the program campus.