OMG, these are incredible! Use whatever nuts you like. Here we make the top of the line Bacon roasted pecans to highlight the south where the pecan is king.
Back in the 1920s, sandwiches were the craze! One book had over 700 sandwich recipes and this probably came from one of them. Or could this recipe been inspiration to the 1920's Dixieland Sandwich???
Seven Hundred Sandwiches/Florence A Cowles [Little, Brown:Boston] 1928.  "Put through the food chopper half a pound of roasted peanuts, three slices of fried bacon and one can pimentos. Mix with salad dressing and use on any preferred kind of bread." (p. 118)
Whichever way it went, these are some of the best in nut recipes to be served as a way of welcoming your most special guests. Use this for the holidays or for special events or when you feel like playing around. The saying that "everything tastes better with bacon" may be true for you.
Bacon Roasted Pecans have become a favorite in upscale burger and pub joints this past few years. It may become a favorite of yours as well. Our bet is that bacon roasted pecans will be awesome at hunting lodges and man-cave hangouts.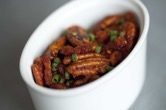 Bacon Roasted Pecans
Ingredients
2

cups

pecan halves

1

tablespoon

butter

melted

1/2

teaspoon

salt

3

bacon slices

chopped into 1/2 inch pieces

1

tablespoon

brown sugar

1

bunch

chives

sliced thinly, optional
Instructions
Preheat oven to 350°F. Line a jelly roll pan or cookie sheet pan with a silmat or parchment paper.

Stir together the pecan halves, bacon and melted butter in a medium sized bowl, then pour out onto the jelly roll pan or cookie sheet pan that has been lined.

Place pan in the middle rack of the oven. Bake at 350°F, stirring occasionally for about 15 minutes or until pecans are toasted with a wonderful aroma and the bacon is done.

Strain out the bacon fat from the pan using a strainer. Save fat and pour it into a small bowl. Place nuts and bacon lardons into their own bowls.

Then toss the nuts with a bit of melted fat from the bacon.

Sprinkle with brown sugar and salt on top, and toss a few times until evenly coated. Allow nuts to cool and come to room temperature. About 30 minutes.

Top with bacon pieces and some chives, and serve.
Notes
Prepare them in advance and store in an air tight container for up to two weeks.
Equipment List:
15x10 inch jelly roll pan or cookie sheet
Silmat or baking parchment
Measuring cups and spoons
Wooden Spoon or spatula
Medium sized bowl
Small sized bowl
Strainer
Adult Supervision