History in Holiday Feasts – Sally Lunn Bread/Rolls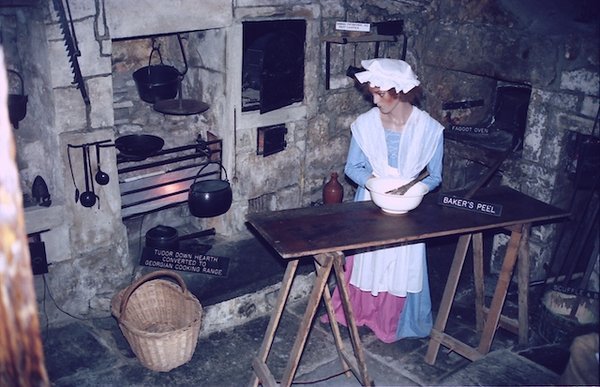 When I was a boy, the first vacation I could ever afford was to Williamsburg, Virginia. I loved strolling through the colonial town where people dressed in proper dress for that period of time. They spoke old English to you and tried to get you to get involved with all kinds of crafts. Making nails, and being present during many activities where things were being made using that time period's technology.
It was really cool to smell the horses, cows, goats, sheet, chickens and to hear running water and seeing the real grinding of flour. This certainly could be a culture shock to today's youth who thrive on techno music and video games. Most kids get dinner served to them in fast food bags or buckets or trays. Some of us still eat dinner as a family, but find it difficult to get the kids to stop texting and conversing with others.
I truly miss the days when a family could eat a meal undisturbed by thoughts of work, school, friends, and today's distractions.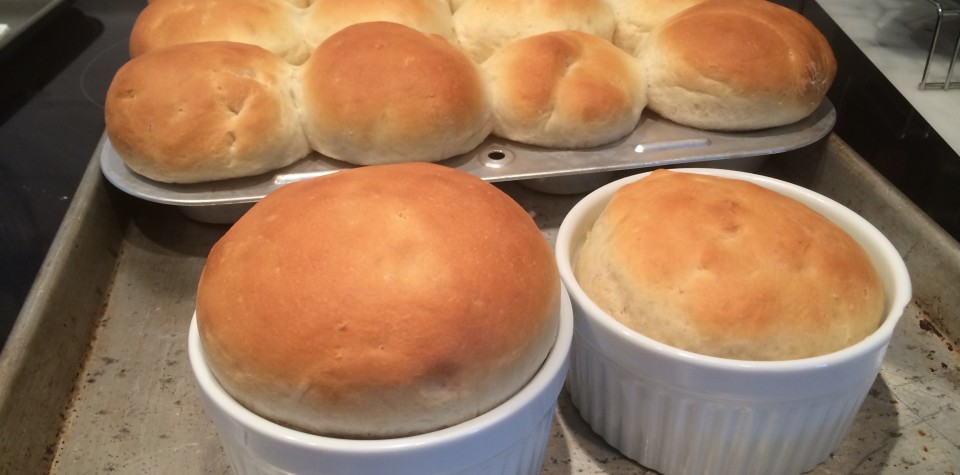 This holiday, I am taking another look at Williamsburg cooking. My favorites used to be the Sally Lunn bread and rolls. What makes this recipe different is that you heat milk, shortening, and water until about 110⁰F. It's interesting because the shortening does not need to melt. It just has to be a hot liquid.
Meanwhile, in a large mixing bowl combine 1 1/3 cups of flour and the sugar, salt and yeast. Add the warm liquid to the flour mixture. Beat using an electric mixer for about 2 minutes. Then gradually add 2/3 cup of flour and then the eggs. Beat at a high speed for about 2 minutes, then add the rest of the 2 cups of flour. The batter will be thick but not stiff. Then you cover the dough and let it ruse until it doubles in bulk, about 1 ½ hours.
Punch down the dough and divide it between prepared loaf pans. Cover and let rise a 2nd time until it increases in bulk between 1/3 and ½. Bake at 350⁰F for 40 to 50 minutes. Allow to cool on racks.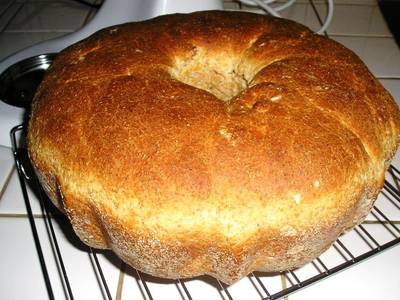 If making rolls, then increase the flour to 4 2/3 cups. After making the initial dough, preheat the oven to 400⁰F, Shape the rolls with floured hands, tucking the edges under to form round domes.
Place the rolls 4 inches apart on a lightly greased baking sheet. Cover and let rise in a warm place for 45 minutes then bake at 400⁰F for 20 minutes.
This is important to me, because a sweet lady in Williamsburg whose name I can't remember did this with me and several others. The bread actually went to a restaurant to be served for lunch and dinner that day. It was about 10am and we were making batch number 3, while batch 2 and 1 were rising.
This recipe shows me the French influence in our culture. Being that each ingredient is treated with respect. The ingredients are treated simply and undisturbed while they do their magic. I'm thinking of the yeast, flour, water and salt.
It's interesting that the addition of egg makes it almost a brioche of sorts, which is also one of my favorite breads to eat.
The other thing that is interesting is that they use shortening instead of butter or margarine. I don't ever like margarine. It has the same number of calories as butter, but margarine is hydrogenated oil. Yuk! I'll keep my butter for buttering the Sally Lunn Rolls.
In fact, Minced Virginia Ham sandwiches are made using Sally Lunn Rolls also. Combine 2 cups chopped Virginia ham with 2 tablespoons of minced onions. Make a killer Tavern Relish with 4 green tomatoes chopped, 1 cup cabbage, shredded, 1 cup cider vinegar, 2/3 cup sugar, 1/3 cup each of onion, green and red bell peppers, minced. Add ½ teaspoon each of celery seed, mustard seed, cardamom seed, cloves and cinnamon along with salt and freshly ground black pepper. Mix and chill 30 minutes. Place this into sterilized jars and seal immediately.
Continue making the sandwiches b buttering your Sally Lunn Rolls, then place a leaf of lettuce on each. Divide the ham mixture among the rolls. Garnish with hard-cooked egg halves, black olives and tomato wedges.
What makes Williamsburg fare so fascinating is that I smelled the family taverns, and loved them. The idea of a living museum as a place of learning is remarkable. I met the people who were there and they made me happy. I used cooking techniques that I learned while I was there. Hearth cooking also fascinated me. One of my mentors, Jean-Louis Palladin taught me these methods as he was preparing to be on Cooking With Julia, one of her last PBS series. Yes I am speaking about Julia Child.
To find out more about Sally Lunn, who was a remarkable person in English history, go to: //www.sallylunns.co.uk/history/meet-sally-lunn/
Meanwhile enjoy a piece of American History this holiday season by looking into Colonial Williamsburg fare. They have several cook books on the market. One I have and love (its falling apart) is Favorite Meals from Williamsburg, 1982 The Colonial Williamsburg Foundation published by Holt, Rinehart and Winston, New York, NY.
Also visit Colonial Williamsburg online at: //www.history.org/foundation/ and //www.colonialwilliamsburg.com/