The French omelet is one of several kinds of omelettes. Its main claim is that the omelet is removed from cooking just before the desired degree of doneness.
The center is slightly underdone and continues to cook while the omelet is being delivered to the table to be eaten. The result is that the center oozes slightly and if cheese is used, it oozes out to wet the diner's appetite.
This style of omelet has a unique shape which resembles an American football.
This style of omelet has a wonderful fluffy and moist texture that is very different than its American counterpart which is tougher and can be crispy.
For most people, they prefer this style, but we can put it to a vote at a later date.
Omelet French Style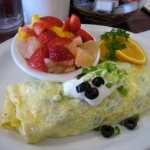 2 large eggs
1 tablespoon butter (melted)
1 tablespoons water
1/8 teaspoon salt
pinch black pepper (freshly ground)
Combine the eggs, milk, salt, and pepper in a medium bowl and mix very well with a fork or a whisk.
Set a dinner plate by the stove.
Heat a seasoned omelet pan or non-stick skillet over medium-high heat. When the pan is warm, add the butter. Swirl the pan so the butter gets all around.
When the butter stops sizzling and the foam goes away add the eggs. Let the eggs heat up (10 seconds).
Stir vigorously, with a heatproof spatula. When stirring, include the sides of the egg mixture so the omelet cooks evenly.
Once the eggs are set (the bottom starts to become solid and the edges start to dry a bit), thump the pan gently on the burner to release the omelet from the pan. Be sure that nothing is sticking to the sides or bottom of the pan, if so use a heat proof spatula.
Hold the pan at a 45-degree angle to the stove and carefully fold the omelet like a business letter. Shake the pan to create thin layers of egg. Fold omelet again and again forming thin layers all rolled up. Cook until just before the desired doneness lifting the pan or reducing the heat to prevent browning. (A classic French omelet is not brown like the American version.)
Transfer omelet to the warm plate and serve.
NOTES: Omelet Filling Suggestions: Fillings are raw and cooked, sweet and savory. Add fillings before folding or alternatively one can roll the omelet then slice it open like a baked potato and top the omelet with fillings such as creams, herbs, fresh fruit or caviar. Add choice of garnishes just before folding the omelet in 1/2 or top omelet if so desired. Serve immediately. Canola oil or olive oil or other low saturated fat oil may be substituted instead of the butter. End result will be slightly different, but still delicious.