Apple sauce or applesauce is a purée made of apples. It can be made with peeled or unpeeled apples and a variety of spices. Flavorings or sweeteners such as sugar or honey are also commonly added. How you change up the mix is what makes this recipe so exciting.
On one making of this recipe, you may want smoother or chunkier apples. While at other times you may prefer a special set of spices for whatever it is you are using it for. Laktes, pork chops, pork tenderloin with cherries – and seasonally you can change the apples you use as well.
Find your favorite, be sure to write it down so that you can tell everyone how great your version of apple sauce is.
Apples are loaded with vitamin C and have fiber.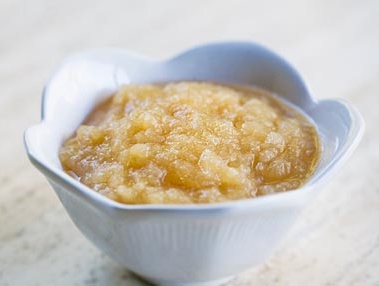 Apple Sauce
Ingredients
4

apples

peeled, cored, and chopped

3/4

cup

water

1/4

cup

sugar

white or brown

1/2

teaspoon

cinnamon

ground

A few drops

lemon juice

optional
Instructions
Using a medium sized saucepan on medium heat, combine apples, water, sugar, and cinnamon.

Cover, and cook over medium heat for 15 to 20 minutes, or until apples are soft.

Turn off the stove and allow mixture to cool for a few minutes.

Mash the mixture with a fork or potato masher to make apple sauce.

Refrigerate for at least 30 minutes.
Notes
Great apples to use are Red Delicious, Golden Delicious, Granny Smith, Fuji, Jonathan, Mcintosh, or Gravenstein. The apples vary in sweetness throughout the year, so taste a piece before adding sugar. If the apple is too sweet, add less sugar. Apple sauce is usually served with pork chops, potato latkes, on its own as a side dish.
Equipment List:
Soup pot or Sauté pan
Wooden spoon or spatula
Cutting board
Chef's knife
Serving bowl