North Texas Giving Day is on 9/14. It is an all day extravaganza from 6am until midnight. Chefsville® is very delighted to be a part of the North Texas Giving Day. Please plan on helping us meet our fundraising goal of $15,000.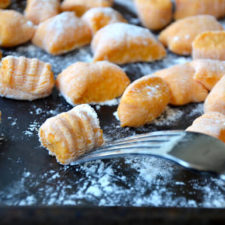 Gnocchi is fun to make. Its from North Italy. And several shapes are acceptable. Plus there are many sauces that go with gnocchi. Get the family together for this activity, it can be done in a short amount of time and there is plenty of satisfaction.
In the first part of this series of articles I offered a suggestion that everyone should enjoy meals together around a table. And this may take some practice from everyone. It is a nice thing to make the meal time where everyone sits down, removes distractions, and discusses life and enjoys there meal together.